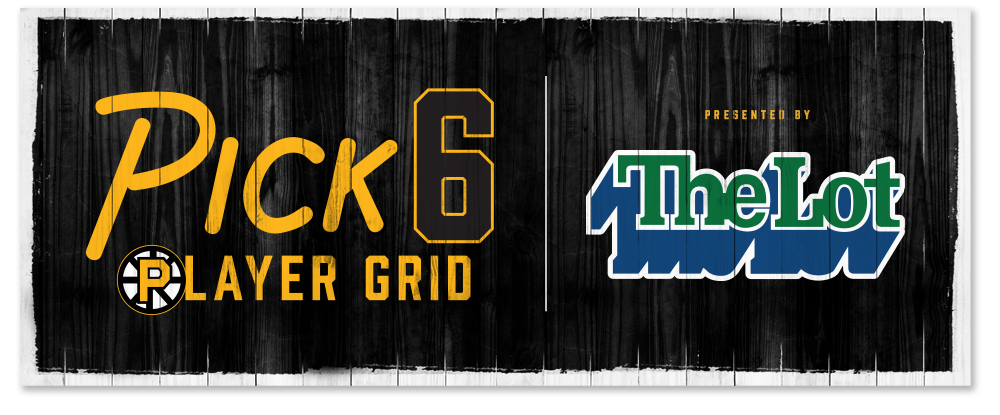 Pick 6 Player Grid
Presented by Rhode Island Lottery
Choose the 6 players you think will earn the most Pick 6 Points for the P-Bruins game indicated below. The grid with the highest total score will win a P-Bruins Prize Pack featuring $25 in Rhode Island Lottery Instant Tickets!
END OF SEASON GRAND-PRIZE DRAWING
PLUS all entries received will automatically be entered for the grand-prize drawing at the end of the season, with the winner receiving (1) P-Bruins Prize pack, (1) P-Bruins autographed item, (1) P-Bruins suite for a 2023-24 regular season game for (20) people with food & beverage and $100 in Rhode Island Lottery Instant Tickets!
---
SCORING
Each player selected for your grid will be scored using the following system at the conclusion of the game. You must select 6 different players. (3) Forwards, (2) Defensemen & (1) FLEX player that can be any other skater or a Goalie. You can also choose a player "on the bench" to be used as a substitute if one of your selections is called-up or scratched. If the same player is selected multiple times, they will only count towards your total score once.
Goal = +2 Points • Assist = +1 Point • Hat Trick = +5 Points
Goalie Saves = +0.5 Points • Goalie Shutout = +10 Points
---
RULES
See 'Official Rules' below for full contest details. You must be at least 18 years old to enter and win. Only entries received before puck drop on the day of the indicated game will be eligible to participate. The winning grid will be announced in the 'Pick 6 Winners' section below, and posted within 48 hours of the end of the game. There will be one (1) winner determined for each Providence Bruins game to win the Pick 6 Prize for that game. If a Providence Bruins game is canceled, a drawing will be conducted from all entries received for that game for one (1) winner to be selected.
2022-23 Pick 6 Winners

Grand Prize Winner: TBD

--------------------------------------------------------------

Below are the Pick 6 winners this season:

October 14 vs BRI: Kelsey LeTourneau - 26 pts

October 21 vs BRI: Abigail Pomeroy - 21.5 pts

October 22 vs UTC: Jason Tremblay - 16 pts

October 23 vs WBS: Adam Revitt - 15.5 & Goal Tiebreaker

October 28th vs CLT: Abigail Pomeroy - 20.5 pts

October 30th vs SPR: Andrew Berard - 19.5 pts

November 11th vs CLT: Stacy Sousa - 8 pts

November 13th vs CLT: Jason Temblay - 27 pts

November 18th vs LHV: Norman Belleville - 19.5pts

November 19th vs LHV: Ron Grandchamp - 26.5pts

November 20th vs BRI: Alan Riendeau - 23pts

December 3rd vs SPR: Adam Sichel - 16.5pts (On the Bench Tiebreaker)

December 4th vs HFD: Jennifer Lewis - 30 pts

December 11th vs BRI: Ed Massey - 19 pts (Goal Tiebreaker)

December 16th vs LHV: Anne Belleville - 22pts

January 8th vs UTC: Anna Morris - 16 pts

January 13th vs UTC: Abigail Pomeroy - 22 pts

January 15th vs HFD: Bailey Morin - 21.5 pts (On the Bench Tiebreaker)

January 22nd vs HFD: Cody Wero - 28 pts (Goal Tiebreaker)

January 27th vs HFD: Ron Granchamp - 15.5 pts (Goal Tiebreaker)

January 29th vs SYR: Jason Tremblay - 9pts (Lineup Entry Tiebreaker)

February 10th vs WBS: Erica Deary - 24 pts (On the Bench Tiebreaker)

February 17th vs SPR: David Coulombe - 21 pts (Goal Tiebreaker)

February 19th vs SPR: Don Kelly - 17.5 pts (Goal Tiebreaker)

February 24th vs CLT: Mark Marino - 34.5pts

February 26th vs ROC: Frank Frenze - 9 pts (On the Bench Tiebreaker)

March 11th vs HER: Don Kelly - 17.5 pts (Goal Tiebreaker)

March 12th vs HER: Kelsey LeTourneau - 36 pts

March 15th vs SYR: David Coulombe - 13 pts

March 19th vs SPR: Lerew Young - 20 pts (Lineup Tiebreaker)

April 1st vs BRI: Frank Frenze - 18.5 pts

April 5th vs HER: Jason Tremblay - 19 pts (Goal Tiebreaker)

April 7th vs WBS: Ron Grandchamp - 22 pts (Goal Tiebreaker)

April 8th vs HFD: Jessica DelGizzi - 16 pts

April 15th vs BRI: Brendan Kelahan - 15.5 pts (On the Bench Tiebreaker)

April 16th vs SPR: Shawn Macomber - 24.5 pts

2021-22 Pick 6 Winners

Grand Prize Winner: Chloe Tasca

----------------------------------------------------------------------

Below are the Pick 6 winners this season:

Oct 16th vs BRI: Jennifer Lewis (11.5 pts)

Oct 23rd vs LAV: Sean Haxton (Goal Tiebreaker)

Oct 24th vs SPR: Madison Lefebvre (4 pts & Goal Tiebreaker)

Oct 29th vs CLT: Robert Berard (21 pts & On the Bench Tiebreaker)

Nov 10th vs SPR: Richie Leblanc (17.5 pts & On the Bench Tiebreaker)

Nov 12th vs LHV: Andrew Berard (21pts)

Nov 13th vs HFD: Andrew Berard (16.5 pts)

Nov 19th vs HFD: Robert Berard (15.5 pts)

Nov 20th vs WBS: Jessica Leoncello (18 pts)

Dec 10th vs BEL: Robert Berard (17.5 pts & Goal Tiebreaker)

Dec 12th vs TOR: Kelsey Bettencourt (24 pts)

Jan 2nd vs SPR: Fernanda McCaughey (19pts & On the Bench Tiebreaker)

Jan 14th vs HFD: Donna Lawton (7pts & On the Bench Tiebreaker)

Jan 16th vs BRI: Richie LeBlanc (17 pts)

Jan 21st vs BRI: Rosario Romare (15 pts & Goal Tiebreaker)

Feb 11th vs ROC: Chris Parent (15 pts & Lineup Submission Tiebreaker)

Feb 18th vs HER: Shae Delgrego (34 pts)

Feb 20th vs HER: Peter Dwyer (24 pts)

Feb 25th vs CLT: Kelsey Bettencourt (20.5pts & Goal Tiebreaker)

Feb 27th vs HFD: Kevin Bouchard (25.5 pts)

March 6th vs WBS: Abigail Pomeroy (25.5 pts & On the Bench Tiebreaker)

March 12th vs BRI: Andrew Berard (20.5 pts & Goal Tiebreaker)

March 13th vs BRI: Eduarda Carreiro (11.5 pts & Goal Tiebreaker)

March 25th vs HER: Rosario Romare (28 pts & Goal Tiebreaker)

March 26th vs SPR: Eduarda Carreiro (19 pts & Goal Tiebreaker)

March 27th vs UTI: Eduarda Carreiro (21.5 pts)

April 1st vs SPR: Mike Aguiar (17 pts & Goal Tiebreaker)

April 3rd vs SYR: Mike Aguiar (16 pts)

April 4th vs HFD: Adam Rivett (21.5 pts)

April 9th vs BRI: Chris Fortin (23 pts)

April 11th vs LHV: Eduarda Carreiro (22.5 pts)

April 19th vs LHV: Jeri Schey (9pts)

April 22nd vs WBS: Sean Haxton (22.5 pts)

April 23rd vs CLT: Kevin Bouchard (24.5 pts & Goal Tiebreaker)

April 29th vs SPR: Rosario Romare (10 pts & Goal Tiebreaker)

April 30th vs UTI: Mike Aguiar (14 pts)