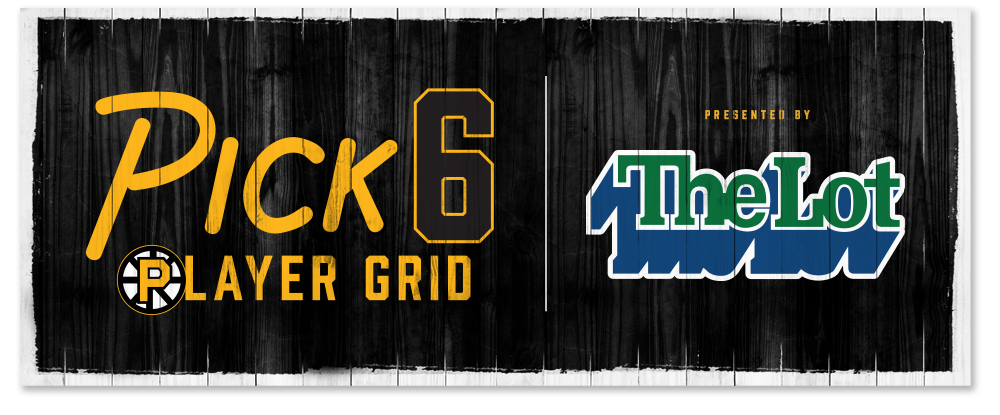 Pick 6 Player Grid
Presented by Rhode Island Lottery
Choose the 6 players you think will earn the most Pick 6 Points for the P-Bruins game indicated below. The grid with the highest total score will win a P-Bruins Prize Pack featuring $25 in Rhode Island Lottery Instant Tickets!
END OF SEASON GRAND-PRIZE DRAWING
PLUS all entries received will automatically be entered for the grand-prize drawing at the end of the season, with the winner receiving a personalized goal call, $150 in local restaurant gift cards and $100 in Rhode Island Lottery Instant Tickets!
---
SCORING
Each player selected for your grid will be scored using the following system at the conclusion of the game. You must select 6 different players. If the same player is selected multiple times, they will only count towards your total score once.
Goal = +2 Points • Assist = +1 Point • Hat Trick = +5 Points • Goalie Shutout = +10 Points
---
RULES
See 'Official Rules' below for full contest details. You must be at least 18 years old to enter and win. Only entries received one hour before puck drop on the day of the indicated game will be eligible to participate. The winning grid will be announced in the 'Pick 6 Winners' section below, and posted within 48 hours of the end of the game. There will be one (1) winner determined for each Providence Bruins game to win the Pick 6 Prize for that game. If a Providence Bruins game is canceled, a drawing will be conducted from all entries received for that game for one (1) winner to be selected.
2020-21 Pick 6 Winners

Below are the Pick 6 winners so far this season:

Grand Prize Winner: Christopher Aldrich

--------------------------------------------------------------

February 5 vs BRI: Zachary Perkins

February 11 vs HFD: Robert Golomboski

February 13 vs BRI: Raymond DeFusco

February 19 vs BRI: Sean Taylor

February 21 vs HFD: Kathleen Reynolds

February 25 vs BRI: Rosario Romare

February 27 vs HFD: Mark Marino

March 2nd vs HFD: Zachary Perkins

March 4th vs BRI: Michael McGowan

March 8th vs HFD: Heather Schey

March 10th vs BRI: Adam Beckwith

March 12th vs HFD: Ron Grandchamp

March 15th vs BRI: Candace Mazzarelli

March 20th vs HFD: Theresa Timmins

March 25th vs HFD: Michelle Lockwood

March 31st vs BRI: Hannah Carpenter

April 5th vs BRI: Robin Desousa

April 10th vs HFD: Siera Leone

April 16th vs UTI: Anthony Autori

April 20th vs BRI: Dean Desimpelaere

April 22nd vs HFD: Candace Mazzarelli

April 29th vs BRI: Kevin Bartels

May 1st vs HFD: Norman Belleville

May 3rd vs BRI: Ron Grandchamp

May 6th vs HFD: Anne Belleville