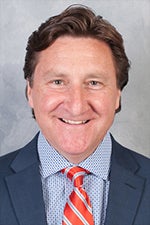 John Ferguson
GENERAL MANAGER
John Ferguson is in his eighth season in the Bruins organization, as he joined the hockey operations staff on June 27, 2014, and was named General Manager of the Providence Bruins on September 15, 2016.
In addition to his role as General Manager in Providence, he serves as the Executive Director of Player Personnel for the Boston Bruins, scouting at the professional and amateur levels with an eye to adding both prospects and roster players to the team. He also serves as an advisor in evaluating potential trades, signings and other transactions.
The Montreal native brought a wealth of experience to Boston's front office, as he joined the Bruins having run every facet of a hockey operations department. He has previously served for six seasons as the Director of Pro Scouting for the San Jose Sharks (2008-14), four-plus seasons as Vice President and General Manager of the Toronto Maple Leafs (2003-08), and six seasons as Assistant General Manager and Director of Hockey Operations with the St. Louis Blues (1997-2003). He has also been both an amateur and professional scout for the Ottawa Senators.
Ferguson played college hockey at Providence College and was drafted by Montreal as a 12th round selection in the 1985 NHL Entry Draft. He played four seasons at the AHL level before earning his law degree in 1995, and he was a player agent for one season in 1996-97.
He and his wife Stephanie have four children, sons Johnny and Nicholas and daughters Emily and Grace.