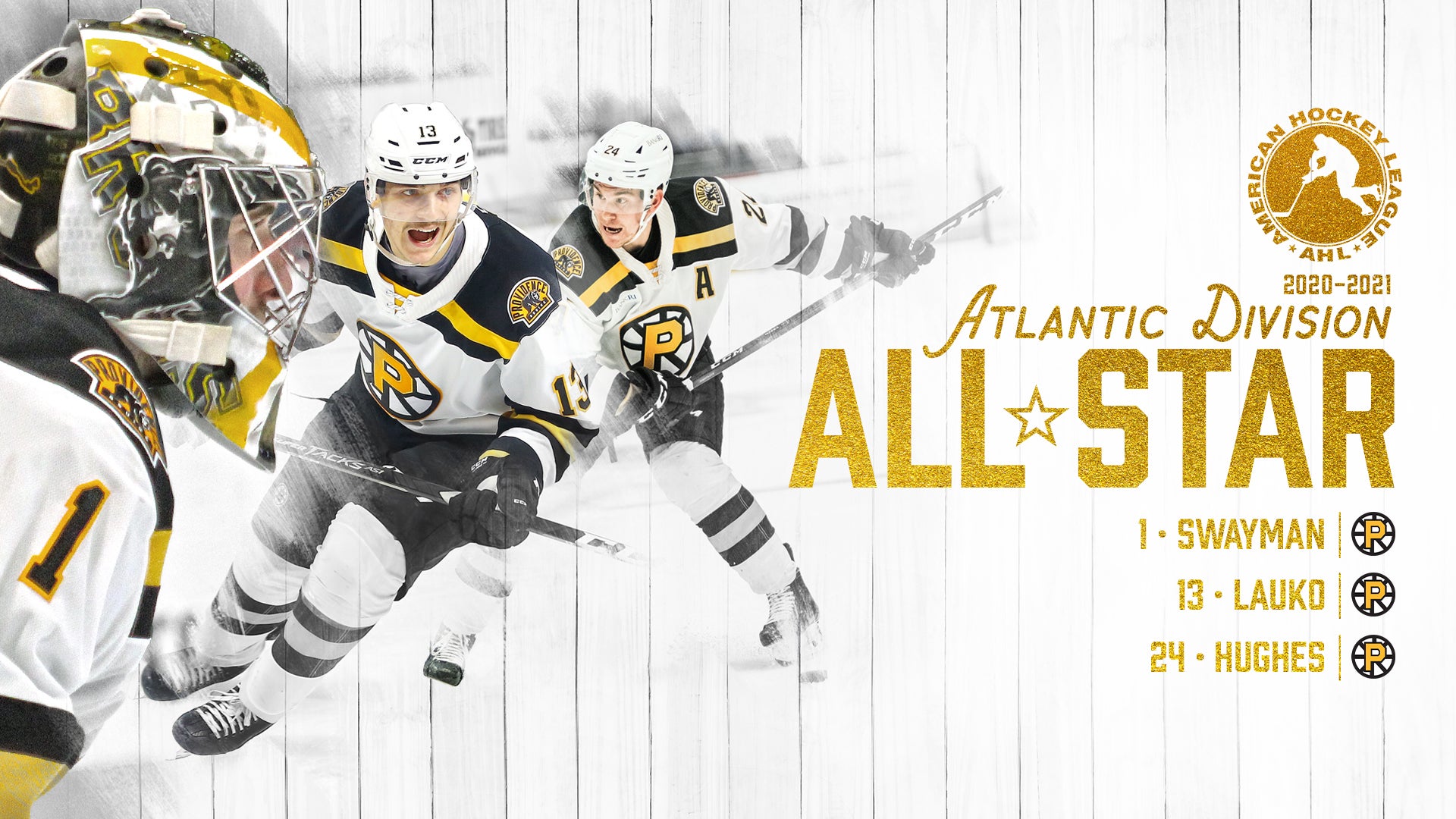 THREE P-BRUINS NAMED TO ATLANTIC DIVISION ALL-STAR TEAM
May 26, 2021
PROVIDENCE, R.I. - The American Hockey League announced today that Providence Bruins forwards Cameron Hughes and Jakub Lauko, along with goaltender Jeremy Swayman, have been named to the 2020-21 Atlantic Division All-Star Team.
Hughes, who skated in his third full season with Providence this year, led the Bruins in scoring with 21 points in 25 games. A sixth-round pick (165th overall) by the Boston Bruins in the 2015 NHL Entry Draft, Hughes scored five goals and added a team-high 16 assists. Despite skating in 27 less games, Hughes' 21 points in one season fell just seven short of his career high 28 points recorded in the 2018-19 season.
Lauko, a third-round pick (77th overall) by the Boston Bruins in the 2018 NHL Entry Draft, skated in 23 games with the P-Bruins this season and recorded a new career-high 19 points. A native of Praha, Czech Republic, Lauko scored five goals and added a career-high 14 assists.
Swayman, a rookie goaltender from Anchorage, Alaska, stood strong in the crease for Providence during the 2020-21 season, appearing in nine games and recording an 8-1-0 record with a 1.89 goals-against average and a .933 save percentage. A fourth-round pick (111th overall) by the Boston Bruins in the 2017 NHL Entry Draft, Swayman led the AHL in goals-against average amongst all goaltenders that appeared in nine or more games. Additionally, his .933 save percentage ranked second amongst all goaltenders appearing in nine or more contests.
The P-Bruins finished the 2020-21 season as Atlantic Division champions with a 15-6-4 record and .680 points percentage. This marked the second consecutive season that Providence captured the Atlantic Division title. The P-Bruins will open the 2021-22 season on October 16, 2021 at the Dunkin' Donuts Center with Opening Night fueled by Dunkin'. Further details on the 2021-22 schedule will be released at a later date.
Back to All