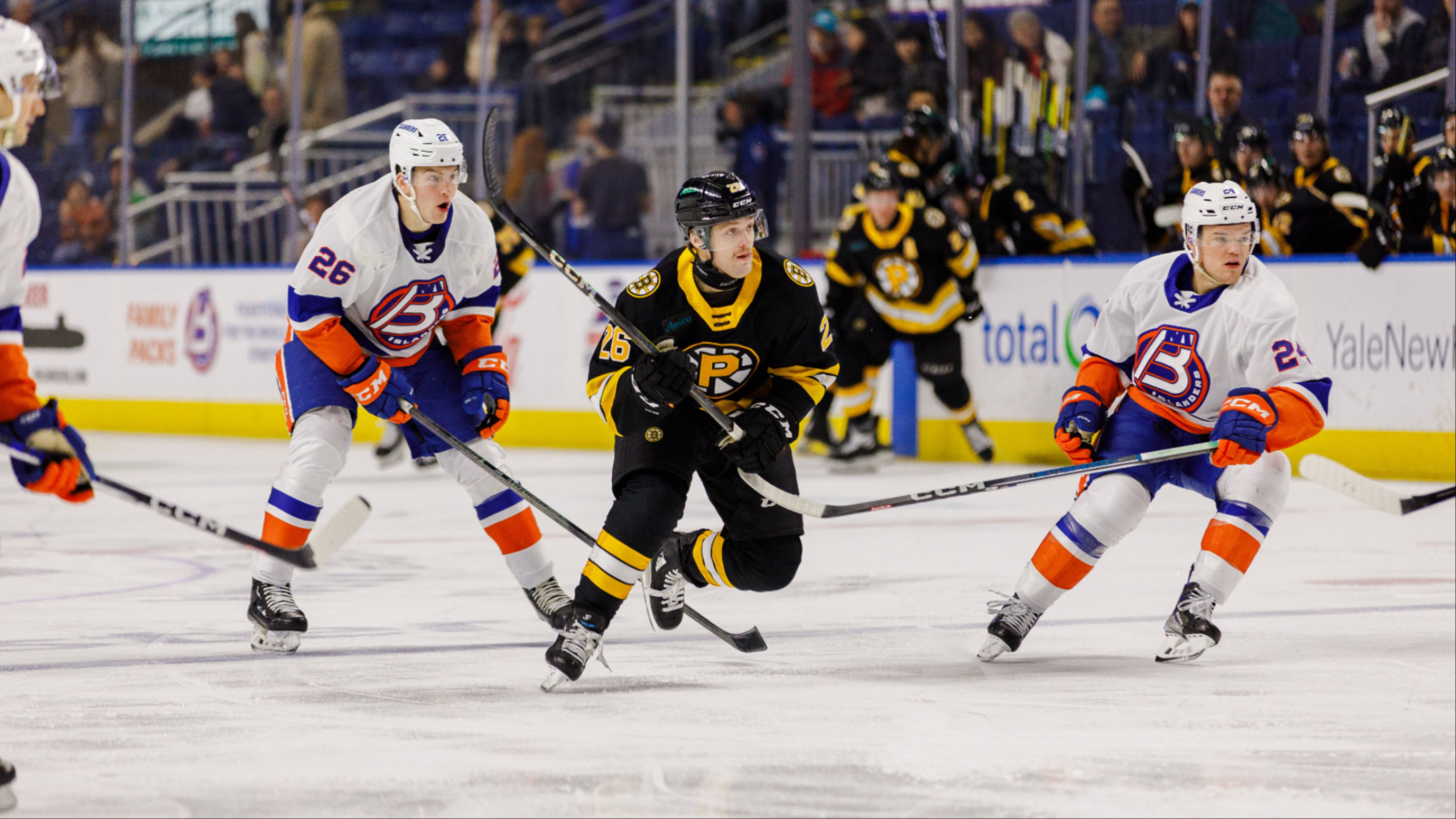 P-BRUINS TOPPED BY ISLANDERS
Nov 19, 2023
Bridgeport, CT - Forward John Farinacci scored the lone goal for the Providence Bruins as they were topped by the Bridgeport Islanders 3-1 on Sunday evening at Total Mortgage Arena. After winning three straight games last weekend, the P-Bruins have now dropped three-straight this weekend.
How It Happened
Brian Pinho caught a feed from Ruslan Iskhakov in the slot and snapped a shot that snuck between the goaltender's legs for a power play goal, giving the Islanders a 1-0 lead with 8:28 remaining in the first period.
Eetu Liukas' one-timer from the right circle zipped along the ice and trickled through the goaltender's legs, extending the Bridgeport lead to 2-0 with 12:26 left in the third period.
While on a breakaway, Karson Kuhlman deked to the backhand and flipped the puck into the back of the net, giving the Islanders a 3-0 lead with 8:07 to play in the third period.
Farinacci controlled the puck in the right corner, peeled back to the circle, and snapped a shot that ricocheted off the goaltender, off a defender, and into the back of the net, cutting the Bridgeport lead to 3-1 with 7:24 remaining in the third period. Justin Brazeau and Anthony Richard were credited with the assists.
Stats
Brazeau has points in three straight games.
Goaltender Brandon Bussi stopped 26 of the 29 shots he faced. The P-Bruins totaled 30 shots.
The Providence power play went 0-for-2, and the penalty kill was 1-for-2.
Up Next
The Providence Bruins travel to Hartford to take on the Wolf Pack on Wednesday, November 22 at the XL Center. Puck drop is set for 7:00 P.M.
#11/19/23
Back to All