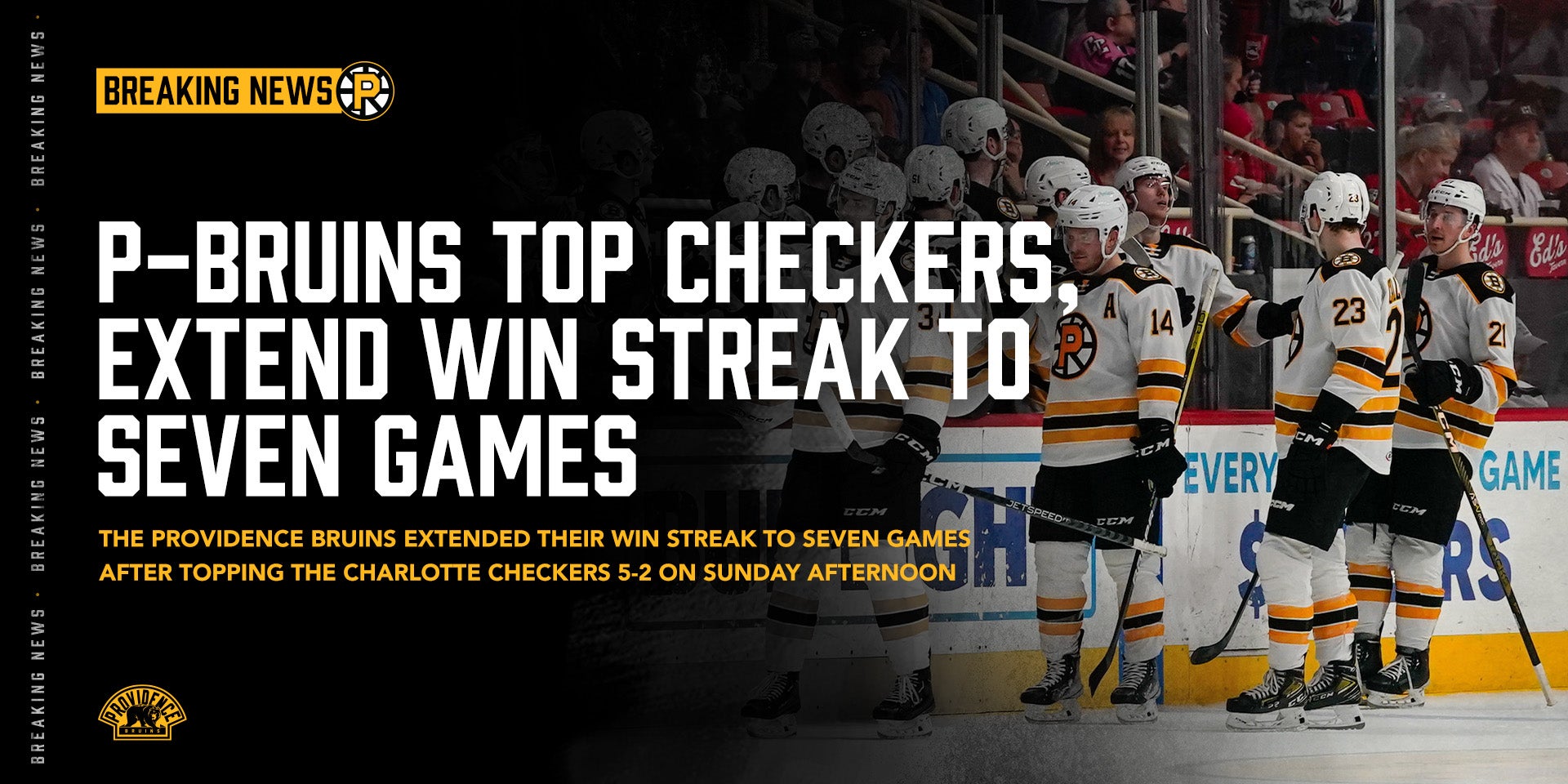 P-BRUINS TOP CHECKERS, EXTEND WIN STREAK TO SEVEN GAMES
Mar 26, 2023
Charlotte, NC - The Providence Bruins extended their win streak to seven games after topping the Charlotte Checkers 5-2 on Sunday afternoon at Bojangles Coliseum. Five different goal scorers contributed to the victory, while Fabian Lysell posted three assists. Goaltender Kyle Keyser stopped 19 of 21 shots in the win.
How It Happened
While on the power play, Connor Carrick played catch with Georgii Merkulov at the point before hammering a one-timer above the glove of the goaltender to give Providence a 1-0 lead 4:26 into the first period. Lysell received a secondary assist.
Zac Dalpe received a pass in between the hash marks from Grigori Denisenko at the left wall and redirected a shot past the glove of the goaltender to tie the game at 1-1 with 8:56 remaining in the first period.
While shorthanded, the Checkers scored on a 3-on-1 after Aleksi Heponiemi dropped the puck back to the trailer Lucas Carlsson, who fired a shot past the goaltender's glove to give Charlotte a 2-1 lead 3:03 into the second period.
From below the cage, Justin Brazeau found Samuel Asselin at the top of the crease, who one-timed the puck through the goaltender's pads for a power play goal to tie the game at 2-2 with 13:05 to play in the second period. A secondary assist was given to Lysell.
Mike Reilly skated the puck up the middle across the blue line and found Joona Koppanen on the right wing, who stepped into the right circle and fired a snapshot that zipped inside the near post to give the P-Bruins a 3-2 lead with 3:51 left in the second period.
59 seconds after the Koppanen tally, Lysell flipped the puck forward for Marc McLaughlin, who skated it into the offensive zone and into the left circle, where he fired a snapshot into the upper-right corner, extending the Providence lead to 4-2. John Beecher was credited with a secondary assist.
While forechecking, Merkulov intercepted a pass at the point, walked it down to the slot, and fired a shot past the goaltender's glove to extend the P-Bruins lead to 5-2 with 13:28 to play in the third period.
Stats
Merkulov has points in six straight games with eight total in that span.
Carrick is riding a three-game point streak.
The P-Bruins have scored back-to-back goals in under one minute for the second straight game.
Keyser stopped 19 of 21 shots faced. The P-Bruins totaled 29 shots.
The Providence power play went 2-for-7, and the penalty kill was 4-for-4.
Next Game
The P-Bruins travel to Wilkes-Barre/Scranton to face the Penguins on Wednesday, March 29 at Mohegan Sun Arena. Puck drop is set for 7:05 p.m. ET.
#03/26/23#
Back to All