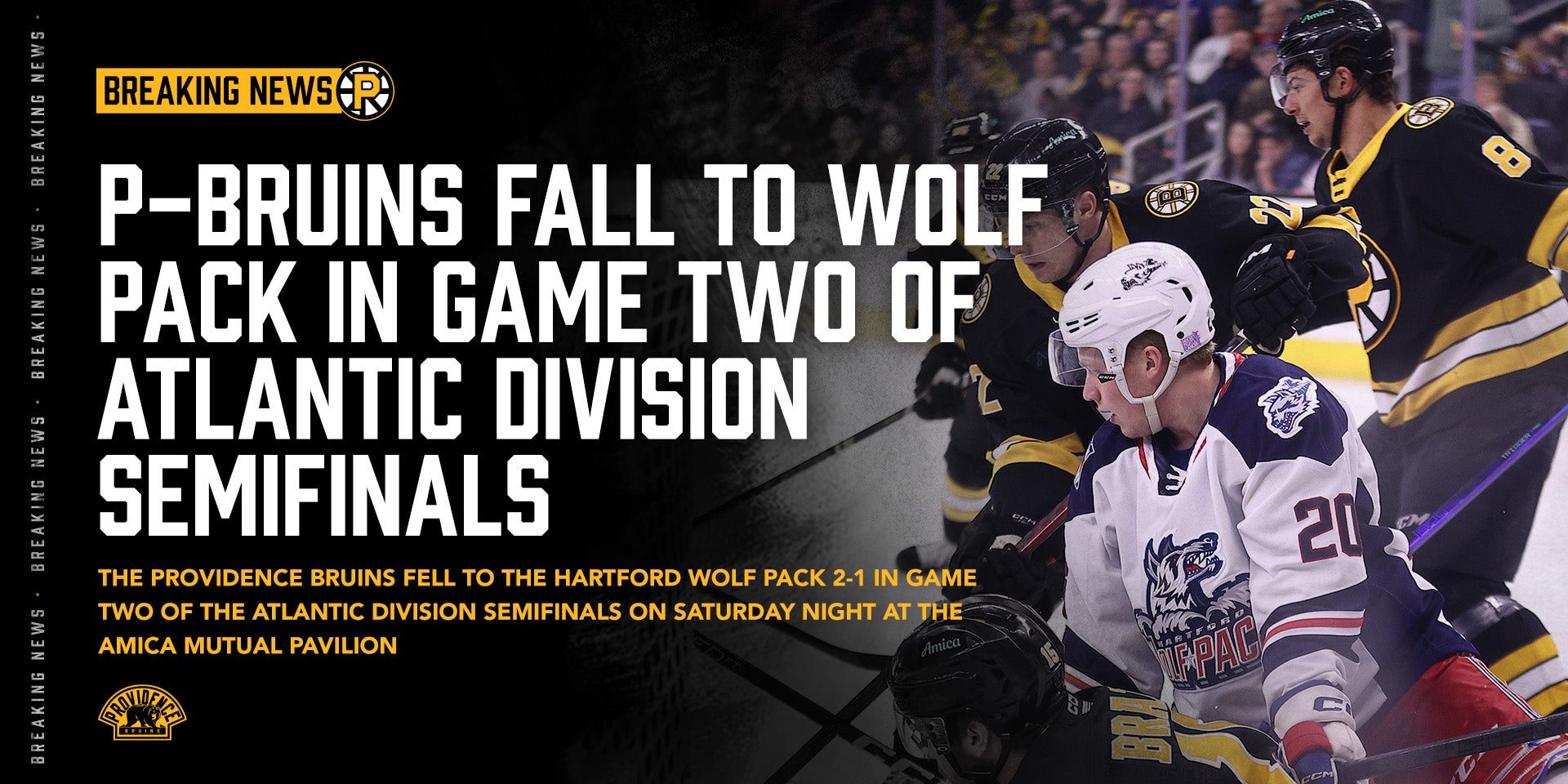 P-BRUINS FALL TO WOLF PACK IN GAME TWO OF ATLANTIC DIVISION SEMIFINALS
Apr 29, 2023
Providence, RI - The Providence Bruins fell to the Hartford Wolf Pack 2-1 in game two of the Atlantic Division Semifinals on Saturday night at the Amica Mutual Pavilion. Goaltender Brandon Bussi made 26 saves in the contest, while Luke Toporowski recorded the lone goal for the P-Bruins. The Wolf Pack lead the best-of-five series 2-0.
How It Happened
Anton Blidh found a rebound off a shot from the point that trickled above the blue paint and put the puck into the back of the net, giving Hartford a 1-0 lead with 13:42 remaining in the second period.
Adam Clendening's one-timer from the point zipped into the upper-left corner, extending the Wolf Pack lead to 2-0 with 10:17 to play in the second frame.
Controlling the puck on the right wing, Joona Koppanen backhanded the puck to Toporowski in the slot, who fired a snapshot off the crossbar and across the goal line, cutting the Hartford lead to 2-1 with 6:46 left in the second period.
Stats
Bussi stopped 26 of 28 shots faced. The P-Bruins totaled 30 shots.
The Providence power play went 0-for-3, and the penalty kill was 3-for-3.
Next Game
The P-Bruins travel to Hartford to face the Wolf Pack in game three of the Atlantic Division Semifinals on Wednesday, May 3 at the Amica Mutual Pavilion. Puck drop is set for 7:00 p.m. ET.
#04/29/23#
Back to All