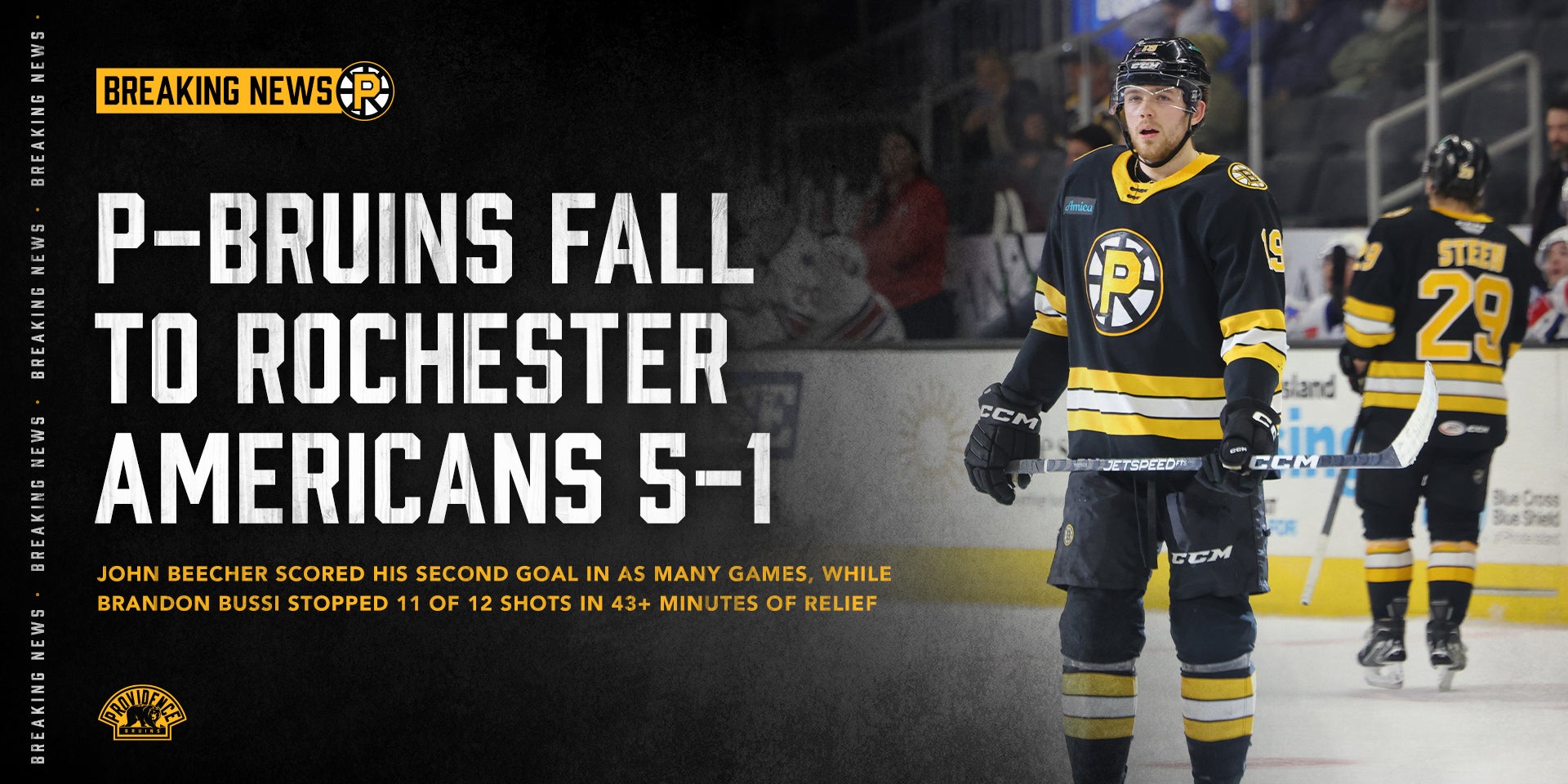 P-BRUINS FALL TO AMERICANS
Feb 26, 2023
Providence, RI - John Beecher scored his second goal in as many games but the Providence Bruins fell to the Rochester Americans 5-1 on Sunday evening at the Amica Mutual Pavilion. Goaltender Brandon Bussi stopped 11 of 12 shots in over 43 minutes of relief.
How It Happened
After Providence possession over in the defensive zone, the puck found Mitch Eliot at the top of the circles, where he snapped a shot past the glove of the goaltender to give the Americans a 1-0 lead 43 seconds into the first period.
A pass out of the left corner was deflected off of a Providence stick and onto the tape of Mason Jobst in the slot, where he wristed a shot glove side to give Rochester a 2-0 lead with 13:19 left in the first period.
Jobst pulled the puck from behind the cage and fed Linus Weissbach in front of the crease, who flipped it into the back of the net to increase the Americans lead to 3-0 with 10:26 remaining in the first period.
The Americans took a 4-0 lead off of a cross-crease pass to the left post, leading to a goal for Brandon Biro with 8:33 left in the first period.
Jiri Kulich won the race to a puck and went in alone on a breakaway, scoring on the forehand to give Rochester a 4-0 lead with 3:29 to play in the second period.
With 4:45 remaining in the third period, Beecher beat a defender with speed around the left wing and flung the puck towards the net, where it bounced off of a defender and across the goal line to get Providence on the board. Oskar Steen and Mike Reilly were credited with the assists.
Stats
Beecher has goals in two straight games and five points in that span.
Reilly has six points in his last two games.
Kyle Keyser stopped four of seven shots faced in the first 11 minutes of play. Bussi made 11 saves in relief. Providence totaled 42 shots in the contest.
The P-Bruins power play went 0-for-2, and the penalty kill was 3-for-3.
Next Game
The P-Bruins take on the Bridgeport Islanders on Thursday, March 2 at Total Mortgage Arena. Puck drop is set for 7:00 p.m. ET.
#02/26/23#
Back to All