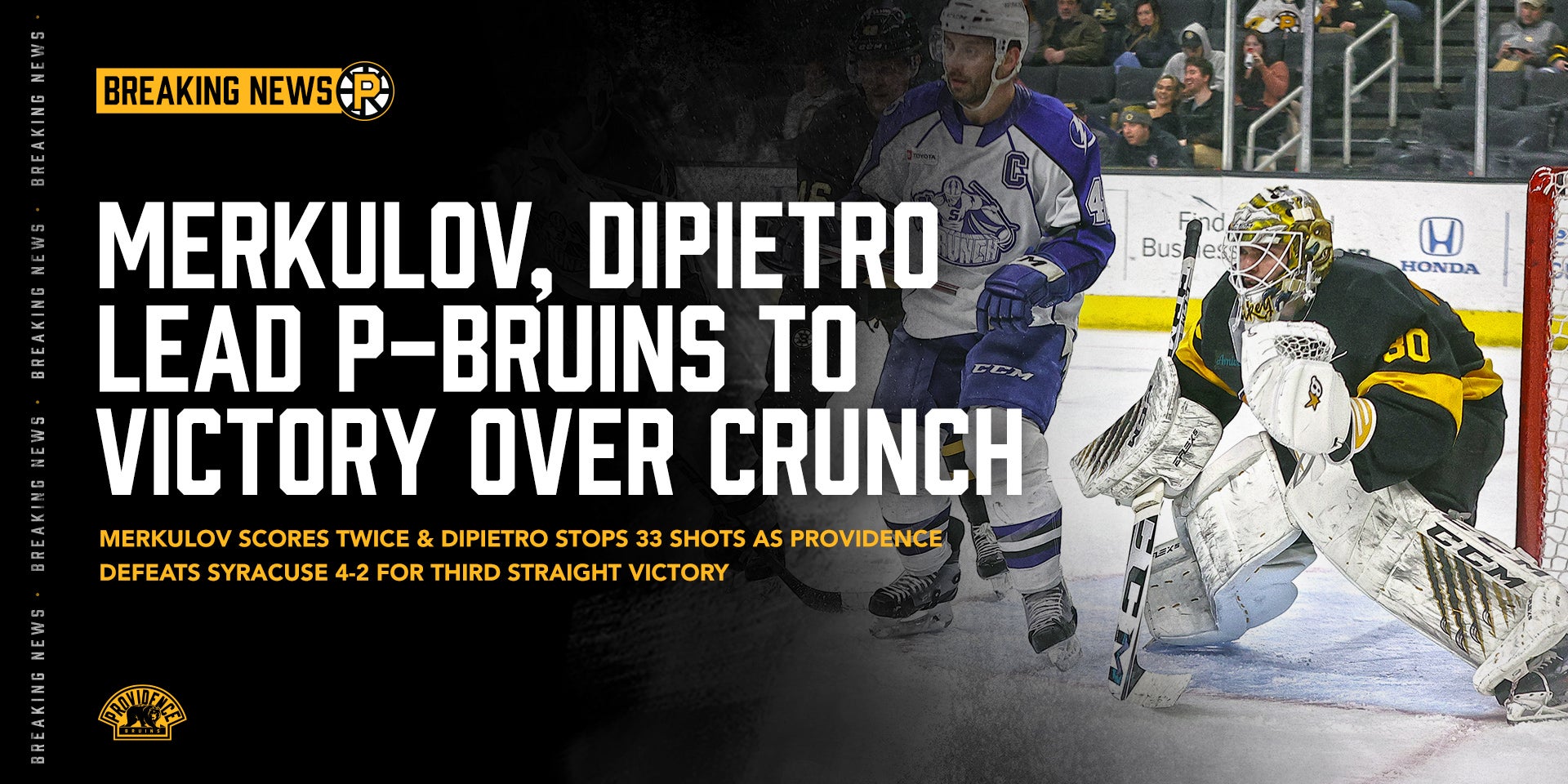 MERKULOV, DIPIETRO LEAD P-BRUINS TO VICTORY OVER CRUNCH
Mar 16, 2023
Providence, RI - Georgii Merkulov potted two first period goals, while goaltender Michael DiPietro stopped 33 shots in his P-Bruins debut as the Providence Bruins defeated the Syracuse Crunch 4-2 for their third straight victory on Wednesday night at the Amica Mutual Pavilion. Connor Carrick notched three assists, while Fabian Lysell and Joona Koppanen posted a goal and an assist a piece.
How It Happened
From behind the cage, Chris Wagner tossed the puck out front, banking it off of the goaltender and out to Koppanen in the slot, who snapped a shot past the goaltender's glove to get the P-Bruins on the board 3:27 into the game. Reilly received an assist as well.
Syracuse evened the score when Gabriel Dumont dropped the puck back to Alex Barré-Boulet at the left circle, who found Rudolf Balcers cutting to the left post for a redirection goal with 15:34 remaining in the first period.
While on a 4-on-3 power play, Lysell found Merkulov at the right circle for a one-timer that zipped inside the near post to give Providence a 2-1 lead with 12:03 left in the first period. Carrick was credited with a secondary assist.
While on the power play, Oskar Steen left the puck for Merkulov, who held it in the right circle before firing a wrist shot short-side top shelf to extend the P-Bruins lead to 3-1 with 6:57 to play in the first period. Carrick received a secondary assist.
Trevor Carrick hammered a slapshot from the point into the upper-right corner to cut the P-Bruins lead to 3-2 53 seconds into the third period.
Koppanen sent the puck up the left-side wall to Lysell, who carried it into the left circle and fired a snapshot inside the far post to extend the Providence lead to 4-2 with 3:24 remaining in the third period. Carrick received an assist as well.
Stats
Merkulov posted his third two-goal game of the season.
Carrick has three assists in two straight contests. He is also riding a three-game point streak.
DiPietro stopped 33 of 35 shots faced. Providence totaled 25 shots.
The P-Bruins power play went 2-for-4, and the penalty kill was 3-for-3.
Next Game
The P-Bruins travel to Springfield to face the Thunderbirds on Saturday, March 18 at the MassMutual Center. Puck drop is set for 7:05 p.m. ET.
#03/15/23#
Back to All