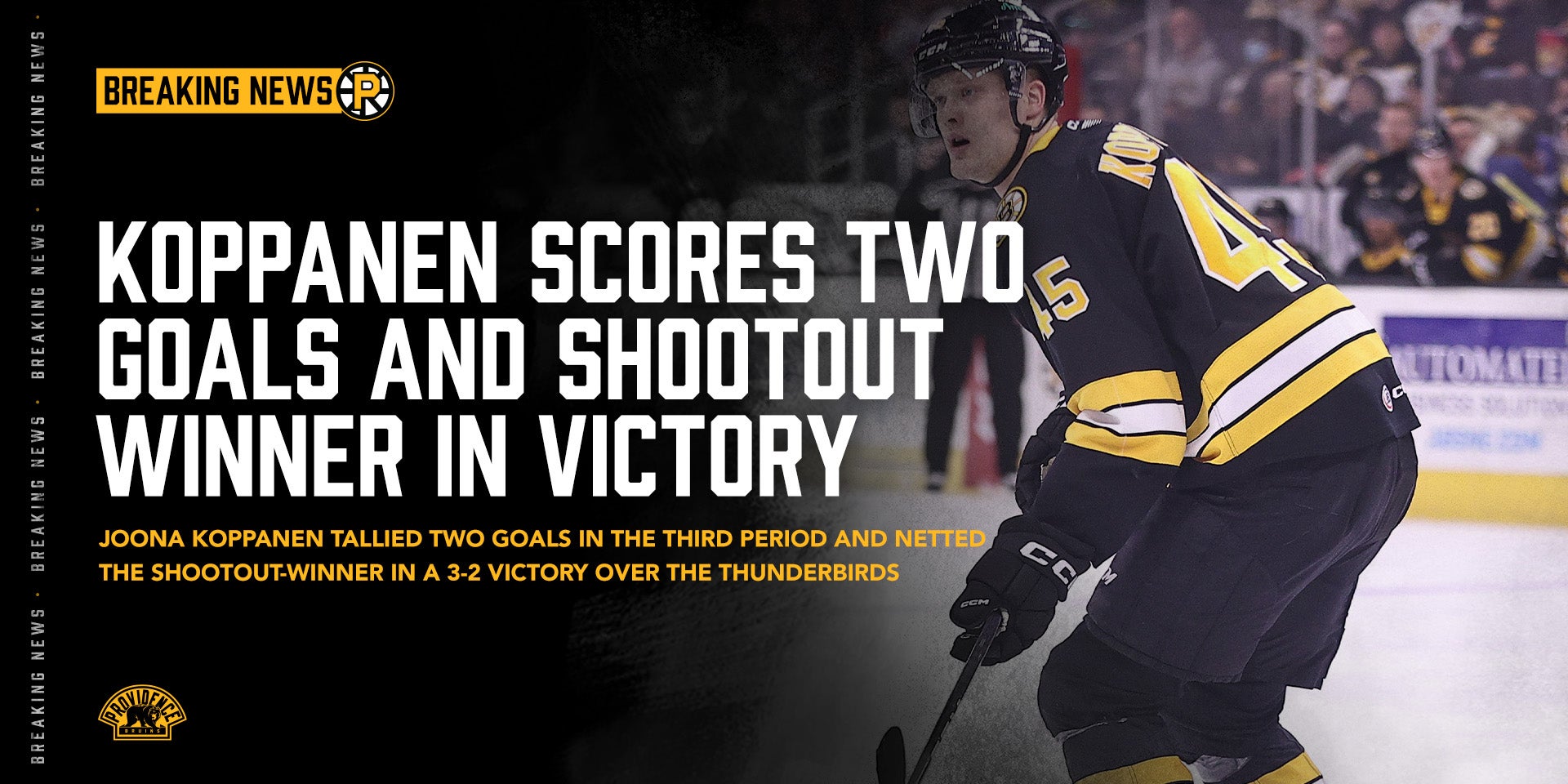 KOPPANEN SCORES TWO GOALS AND SHOOTOUT WINNER IN VICTORY OVER T-BIRDS
Mar 19, 2023
Providence, RI - Joona Koppanen tallied two goals in the third period and netted the shootout-winning goal as the Providence Bruins defeated the Springfield Thunderbirds 3-2 in a shootout on Sunday evening at the Amica Mutual Pavilion. Goaltender Kyle Keyser stopped 25 shots, including a sprawling save as time expired in the overtime frame. Providence totaled 56 shots in the contest.
How It Happened
Adam Gaudette won a battle for the puck in the right corner, wrapped it around the net, and flipped a shot short-side to give the T-Birds a 1-0 lead with 12:49 left in the second period.
From the left circle, Koppanen fired a wrist shot that zipped inside the near post, tying the game at 1-1 on the power play with 9:58 remaining in the first period. Connor Carrick and Georgii Merkulov received the assists on the goal.
While shorthanded, Koppanen collected a rebound in the left corner and banked a shot off the back of the goaltender and across the goal line, giving Providence a 2-1 lead with 2:39 to play in the third period. Marc McLaughlin was credited with an assist.
With the goaltender pulled for the extra attacker, Mathias Laferriere's shot from the slot beat the goaltender on the glove side to tie the game at 2-2 with 60 seconds left.
Stats
Koppanen's two tallies were good for his first multipoint game of the season. This was the second time he has scored the shootout-winner this season.
Merkulov has points in four straight games.
Keyser stopped 25 of 27 shots faced. Providence totaled 56 shots.
The P-Bruins power play went 1-for-3, and the penalty kill was 1-for-2.
Next Game
The P-Bruins travel to Charlotte to take on the Checkers on Saturday, March 25 at Bojangles Coliseum. Puck drop is set for 4:00 p.m. ET.
#03/19/23#
Back to All