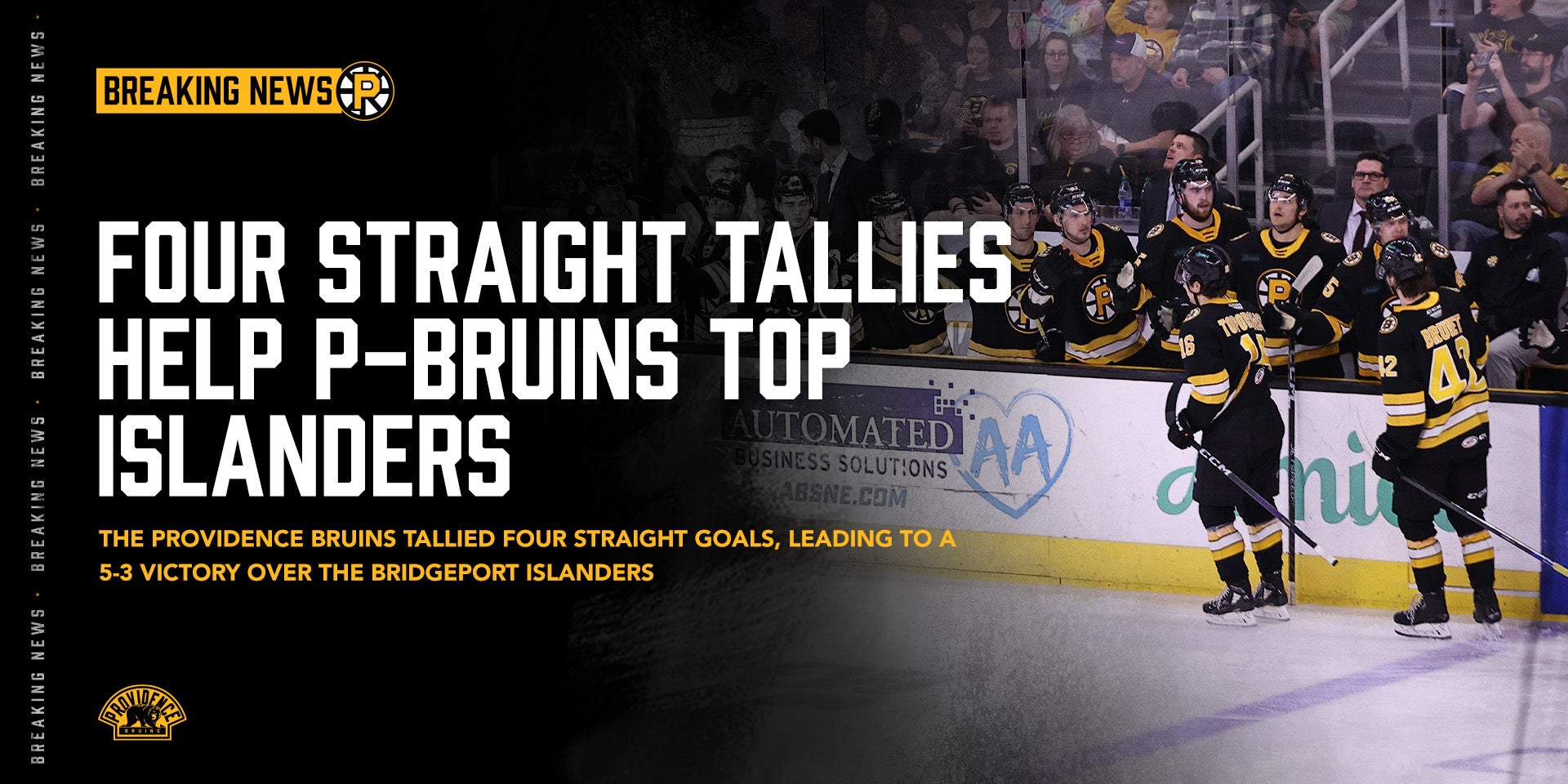 FOUR STRAIGHT TALLIES HELP P-BRUINS TOP ISLANDERS
Apr 15, 2023
Providence, RI - The Providence Bruins tallied four straight goals, leading to a 5-3 victory over the Bridgeport Islanders on Saturday night at the Amica Mutual Pavilion. Vinni Lettieri potted a goal and an assist. Defenseman Frederic Brunet notched two assists in his first professional game, while Jack Ahcan also recorded two assists.
How It Happened
38 seconds into the game, Chris Terry zipped a pass from the right wing across to Andy Andreoff in the left circle, who quickly fired a shot inside the near post, giving the Islanders an early 1-0 lead.
Shane Bowers' wrist shot from the right circle snuck inside the near post, tying the game at 1-1 just 3:01 into the second period. Anton Stralmanand Brunet were credited with the assists.
Arnaud Durandeau took the puck into the zone along the right wing, toe-dragged through a defender, and backhanded the puck into the top shelf, giving the Islanders a 2-1 lead with 12:27 left in the second period.
Durandeau intercepted a clearing attempt on the power play in front of the crease and flipped it over the goaltender, extending the Bridgeport lead to 3-1 with 6:35 to play in the second period.
While on the power play, Brunet slid the puck across the point to the middle for Luke Toporowski, who stepped into a wrist shot that beat the goaltender high, cutting the Islanders lead to 3-2 with 3:27 left in the second period. Brett Harrison received a secondary assist.
32 seconds into the third period, Lettieri hammered a one-timer from the bottom of the right circle that whistled inside the near post, tying the game at 3-3. Connor Carrick and Ahcan received assists on the goal.
Joona Koppanen brought the puck up the left wing and sent a floating shot on cage that rebounded to Eduards Tralmaks above the crease, where he put in the second effort to give Providence a 4-3 lead with 13:15 remaining in the third period.
Fabian Lysell scored an empty-net goal with 18 seconds left. Lettieri and Ahcan were credited with the assists.
Stats
Brunet and Harrison tallied their first career professional point.
Lettieri notched his 10th multi-point game of the season, while Ahcan tallied his fifth.
Brandon Bussi stopped 15 of 18 shots faced. The P-Bruins totaled 27 shots.
The Providence power play went 1-for-5, and the penalty kill was 2-for-4.
Next Game
The P-Bruins host the Springfield Thunderbirds on Sunday, April 16 at the Amica Mutual Pavilion. Puck drop is set for 3:05 p.m. ET.
#04/15/23#
Back to All