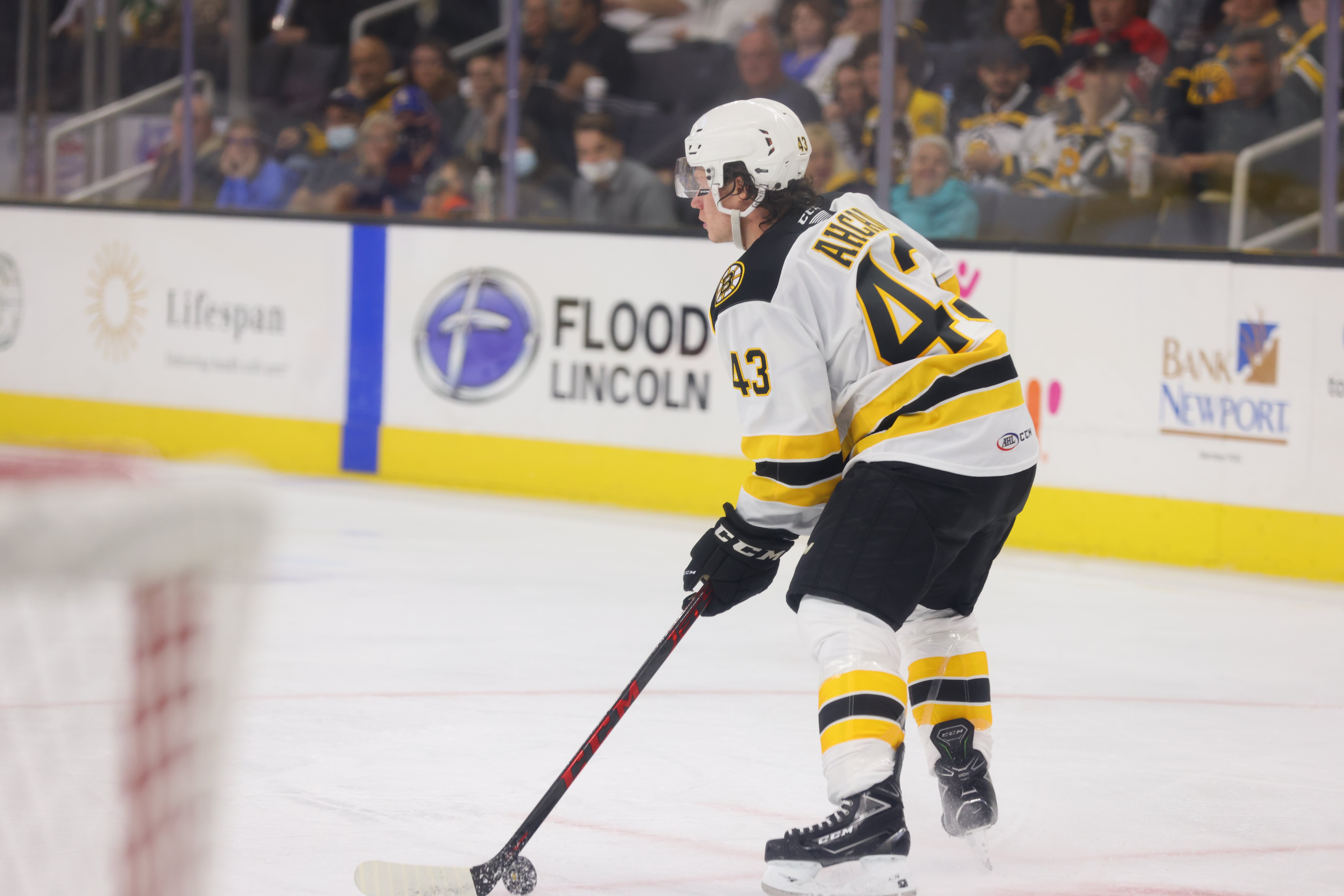 P-BRUINS SET TO BATTLE UTICA COMETS TO KICK OFF FIRST THREE-IN-THREE OF THE SEASON
Chris Krenn
Oct 22, 2021
The Providence Bruins earned three out of four points in this past weekend's two-game slate with a shootout win over the Bridgeport Islanders on Saturday and a shootout loss to the Hartford Wolf Pack on Sunday. With two games in the books, Providence sits in third place in the Atlantic Division behind the Hershey Bears and Springfield Thunderbirds, who are both undefeated through two games.
"I thought we looked really strong," said Providence Bruins head coach Ryan Mougenel. "Obviously offensively I thought we had some really good looks against Hartford. Early in the season there's definitely some teaching moments that we've got to shore up.
"I think this group accepts coaching really well, which is phenomenal for our staff. We've got a lot of different types of players and as a staff we're figuring out where they belong and where they fit. The message on Friday is just going to be, `Do what you do. Take ownership in what you do and do it well.'
"Overall, we're very happy. I thought Kyle played really well last weekend. He stepped up and gave us a chance when we had some of those breakdowns. We're learning what we're good at and we're learning what we're not so good at. I think that's important as we go forward."
The P-Bruins schedule rolls on with the first three-in-three of the season as Providence travels to Utica to take on the Comets on Friday night. The team will return to Rhode Island following the game and play two consecutive home games at The Dunk with a Saturday matchup against the Laval Rocket and a Sunday tilt against Springfield.
"I think a real important message for us going into three consecutive games is, `Be a part of the process,'" said Mougenel. "The end result isn't always what you want, but if you're playing the right way and doing the things that we encourage and want guys to do, the outcome's going to look after itself.
"We don't want to get ahead of ourselves or look too far ahead on the schedule. We want to be where our feet are. I think that's a big message, especially for the American Hockey League. You can get ahead of yourself in this league in a lot of different ways. As a player, sometimes you can get caught up in thinking about what's going on up top. I think if guys take care of where they are now and where their feet are, we'll be in good shape."
TOP LINE CAME TO PLAY
The P-Bruins top line over the opening weekend was a trio of Jakub Lauko, Jack Studnicka, and Chris Wagner. The three forwards combined for five points in the two games, with Studnicka also adding a shootout goal in Saturday's win over Bridgeport. Studnicka (1G, 1A) and Lauko (0G, 2A) are currently tied for the team lead with two points apiece, while Wagner has recorded one point in the form of a power-play, game-tying goal in the third period of Sunday's contest against Hartford.
STRONG START FOR KEYSER
Kyle Keyser was scheduled to start Sunday's matchup against the Wolf Pack, but was called into action early on Saturday after Troy Grosenick suffered a lower body injury early in the team's opening contest against Bridgeport. Keyser's night began at the start of the second period and the Coral Springs, Florida, native was perfect, stopping 19 of 19 shots and two of two shots in the shootout. Keyser was called on again to start Sunday's afternoon game against Hartford, where he made 22 saves on 25 shots and stopped five of six shots in the shootout. Through two games this season, Keyser has recorded a .932 save percentage paired with a 1.64 goals against average.
POINT GETTERS
In total, nine Providence skaters recorded at least one point over the first two games of the season. Samuel Asselin, Tyler Lewington, Jack Studnicka, and Chris Wagner have all scored one goal through two contests, while Jack Ahcan, Matt Filipe, Oskar Steen, Studnicka, and Urho Vaakanainen have all tallied one assist. Jakub Lauko currently leads the P-Bruins in assists with two.
LAST TIME OUT
Providence and Utica met in just one contest during the 2020-21 season, with the P-Bruins coming out victorious in a 6-2 win. After falling behind 2-0 in the first period, Providence got a late power-play goal from Brady Lyle with 35 seconds remaining in the opening frame. The P-Bruins never looked back after Lyle's power-play tally, scoring five consecutive goals to close out the 6-2 win. In total, nine current P-Bruins recorded at least one point that day, including Lyle (1G, 1A), Jakub Lauko (2A), Urho Vaakanainen (2A), Jack Ahcan (1A), Cameron Hughes (1A), Joona Koppanen (1A), Zach Senyshyn (1G), Jack Studnicka (1A), and Alex-Olivier Voyer (1A). Kyle Keyser earned the win for Providence in goal, stopping 25 of 27 shots. However, Providence will face an entirely different Utica lineup than they did last season with the Comets now being the AHL affiliate of the New Jersey Devils.
COMETS TO WATCH
Alexander Holtz: Utica has played one game so far this season, with Holtz, the seventh overall pick in the 2020 NHL Entry Draft scoring two goals.
Reilly Walsh: A defenseman and New England native out of North Falmouth, Massachusetts, Walsh leads Utica in points after recording three assists in their opening game.
Tyce Thompson: The name may ring a bell for Providence hockey fans, as Thompson played three years at Providence College, captaining the Friars in his final year with the team. Thompson picked up two helpers in the season opener.
Nolan Foote: A first-round pick in the 2019 NHL Entry Draft by the Tampa Bay Lightning, Foote, along with a first round pick, was acquired by the Devils organization in exchange for forward Blake Coleman. Foote appeared in 24 games last season with the Binghamton Devils, scoring seven goals and adding 10 assists for 17 points.
P-BRUINS TO WATCH
Jack Studnicka: Always a threat offensively, Studnicka took the AHL by storm during his rookie season in 2019-20, leading the P-Bruins in all three scoring categories with 23 goals, 26 assists, and 49 points in 60 games. The Tecumseh, Ontario, native also netted seven shorthanded goals that season, ranking first in the AHL by three goals. Studnicka holds a share of the team lead in points with two (1G, 1A) through two games and will look to add to that total on Friday.
Samuel Asselin: Ranking second on the P-Bruins in goals and third in points last season, Asselin will look to score for the second consecutive game on Friday after netting his first of the season last Sunday against Hartford.
Jack Ahcan: Despite playing in just 19 games with Providence last season, the always shifty defenseman still managed to lead all P-Bruins defensemen in assists with nine. Dynamic with the puck, Ahcan can heavily impact the game with his skating, awareness, and high hockey IQ.
Jakub Lauko: Tied with Studnicka for the team lead in points, Lauko possesses game-changing speed that can make defensemen think twice about pinching up the boards in the offensive zone. Lauko has taken steps forward in each of his two seasons in the AHL and will look to do the same this year after ranking second on the P-Bruins in both points and assists last season.
Back to All