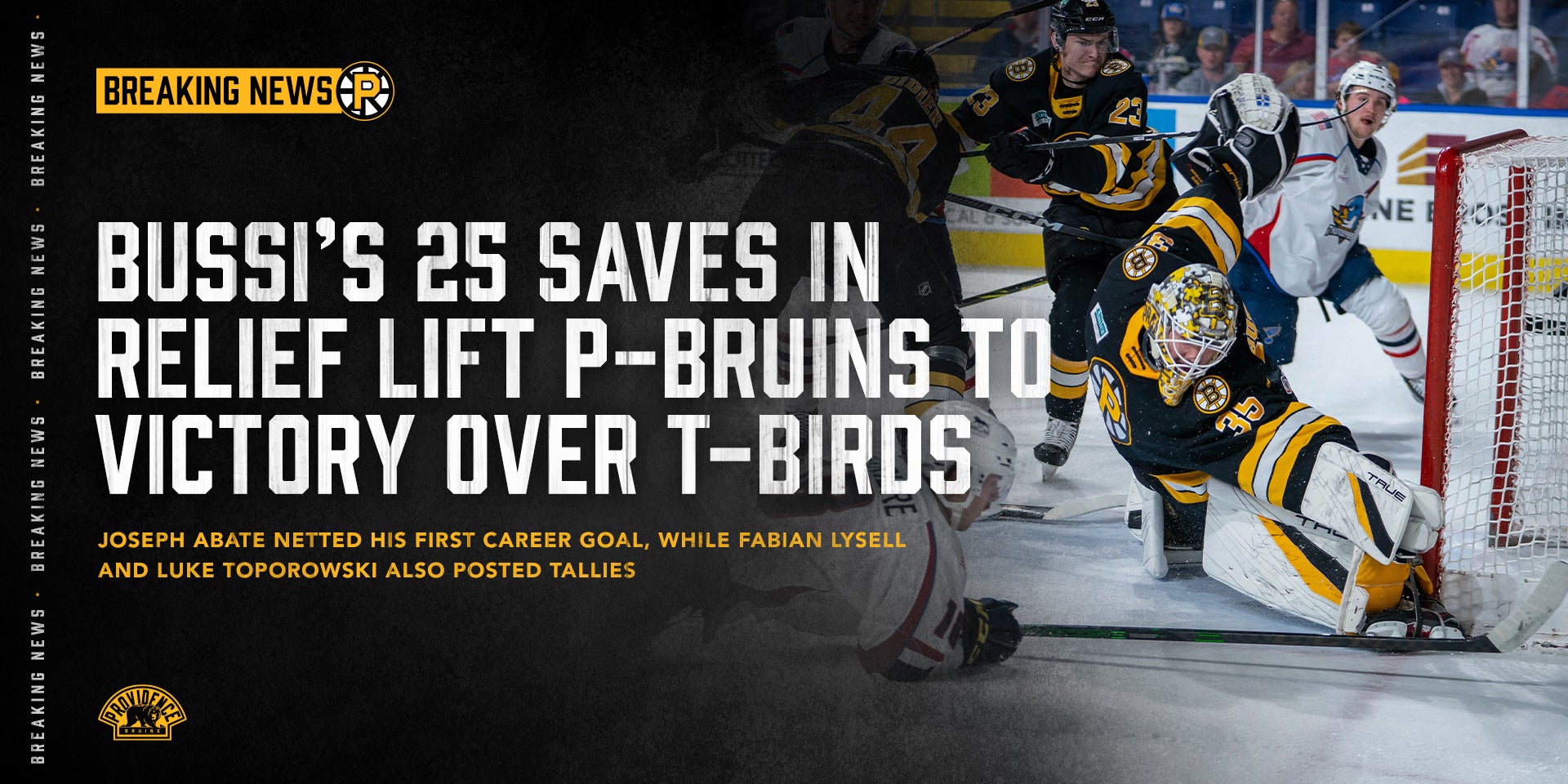 BUSSI'S 25 SAVES IN RELIEF LIFT P-BRUINS TO VICTORY OVER THUNDERBIRDS
Nov 5, 2022
Springfield, MA - Goaltender Brandon Bussi stopped 25 of the 27 shots he faced in relief to lift the Providence Bruins to a 3-2 victory over the Springfield Thunderbirds on Saturday night at the MassMutual Center. Joseph Abate netted his first career goal, the game-winning goal, while Fabian Lysell and Luke Toporowski also posted tallies.
How It Happened
On a 4-on-4, Fabian Lysell took a Connor Carrick feed from the defensive zone on a breakaway and ripped a shot from between the hash marks just 1:44 into the game to give the P-Bruins a 1-0 lead.
Mathias Laferriere tied the game at 1-1 when he crashed the net and put in a rebound with two minutes left in the first period.
Matthew Highmore caught a cross crease pass and slid the puck past Bussi to make it 2-1 Thunderbirds with 1:01 left in the first period.
Toporowski caught a pass from Wissmann in the slot, turned and ripped a shot high glove side to tie the game at 2-2 just three minutes into the second period.
Abate won a battle along the boards, cut to the hash marks and fired a snapshot into the upper left corner to give the P-Bruins a 3-2 lead with 4:00 left in the second period.
Stats
Toporowski's goal extended his point streak to nine games. He has a goal in three of the last four games.
Connor Carrick has assists in two straight games. He leads the Bruins D-core with six points on the season.
Kyle Keyser stopped 6 of the 6 shots he faced.
Bussi stopped 25 of the 27 shots he faced in relief.
The P-Bruins power play went 0-for-4 and the penalty kill was 5-for-5.
Atlantic Division Standings
TEAM GP PTS
Providence 10 16
Bridgeport 9 15
Wilkes-Barre/Scranton 8 13
Charlotte 9 12
Springfield 10 11
Hershey 8 10
Lehigh Valley 9 7
Hartford 8 6
Next Game
The P-Bruins travel to Bridgeport, Connecticut on Sunday, November 6 to take on the Islanders at Total Mortgage Arena. Puck drop is set for 3:05 p.m. ET.
#11/05/22#
Back to All