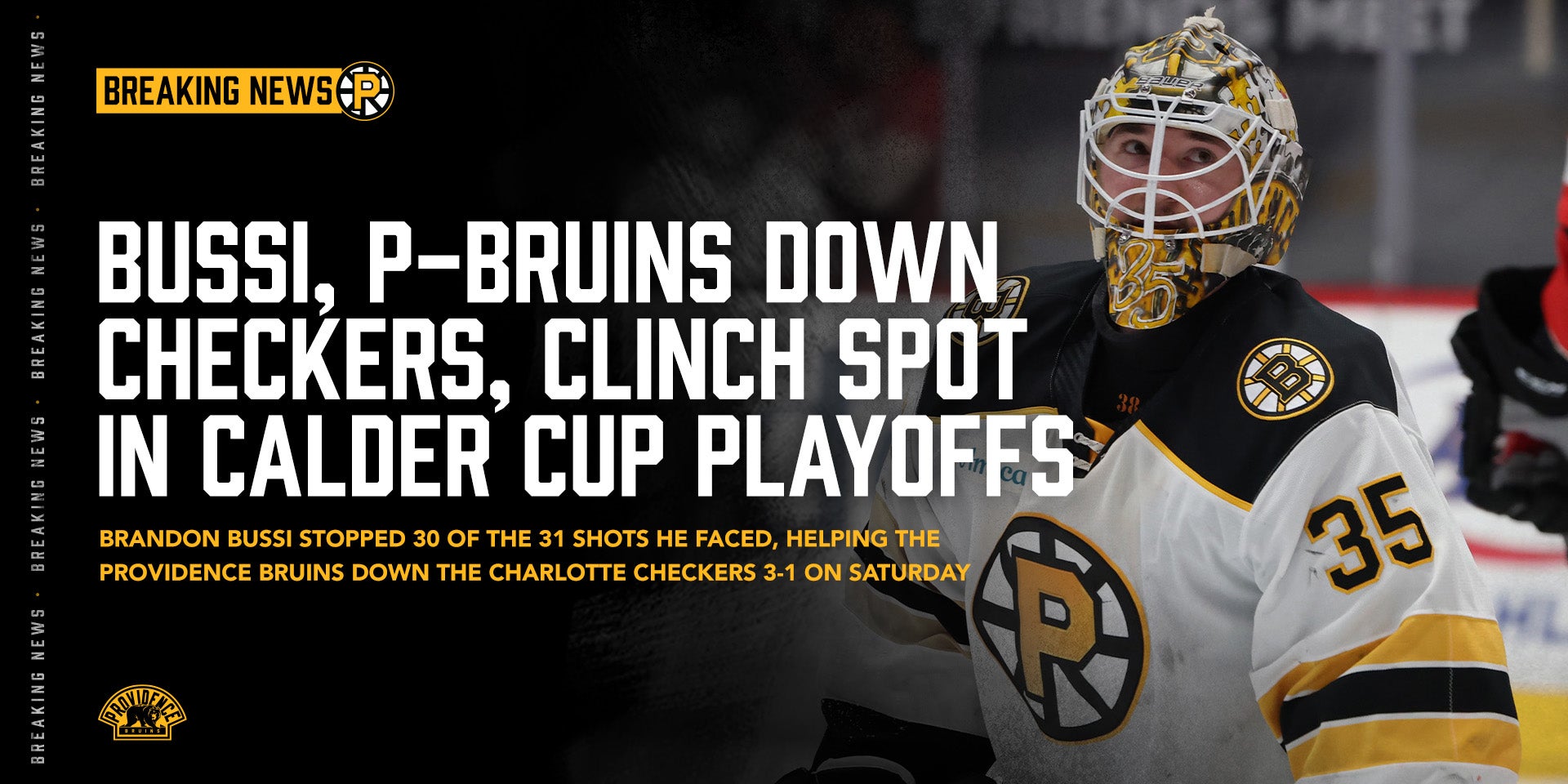 BUSSI, P-BRUINS DOWN CHECKERS, CLINCH SPOT IN CALDER CUP PLAYOFFS
Mar 25, 2023
Charlotte, NC - Goaltender Brandon Bussi stopped 30 of the 31 shots he faced, helping the Providence Bruins down the Charlotte Checkers 3-1 on Saturday evening at Bojangles Coliseum. The win clinched a spot in the Calder Cup Playoffs for the P-Bruins. Three third period goals scored by Luke Toporowski, Chris Wagner, and Georgii Merkulov were all Providence needed.
How It Happened
Toporowski caught a feed up the left wing, beat a defender wide to go on a breakaway and fired a wrist shot inside the far post to give the P-Bruins a 1-0 lead 2:55 into the third period. Connor Carrick and Justin Brazeau were credited with assists.
From the right circle, Shane Bowers fired a shot that deflected off Wagner in front of the crease and trickled across the goal line to extend the Providence lead to 2-0 with 8:23 remaining in the third period.
10 seconds later, the puck squirted out of the left corner to Merkulov above the right circle, where he hammered a one-timer into the upper-right corner, giving the P-Bruins 3-0 lead.
Santtu Kinnunen's shot from top of the right circle beat the goaltender on the ice, cutting the Providence lead to 3-1 with 6:49 left in the third frame.
Stats
Toporowski scored in his first game since January 28.
Merkulov has points in five straight games.
The Wagner and Merkulov tallies were the fastest back-to-back goals this season for the P-Bruins.
Providence tallied three goals on five shots in the third period.
Bussi stopped 30 of 31 shots faced. The P-Bruins totaled 18 shots.
The Providence power play went 0-for-3, and the penalty kill was 4-for-4.
Next Game
The P-Bruins remain in Charlotte to take on the Checkers on Sunday, March 26 at Bojangles Coliseum. Puck drop is set for 1:00 p.m. ET.
#03/25/23#
Back to All