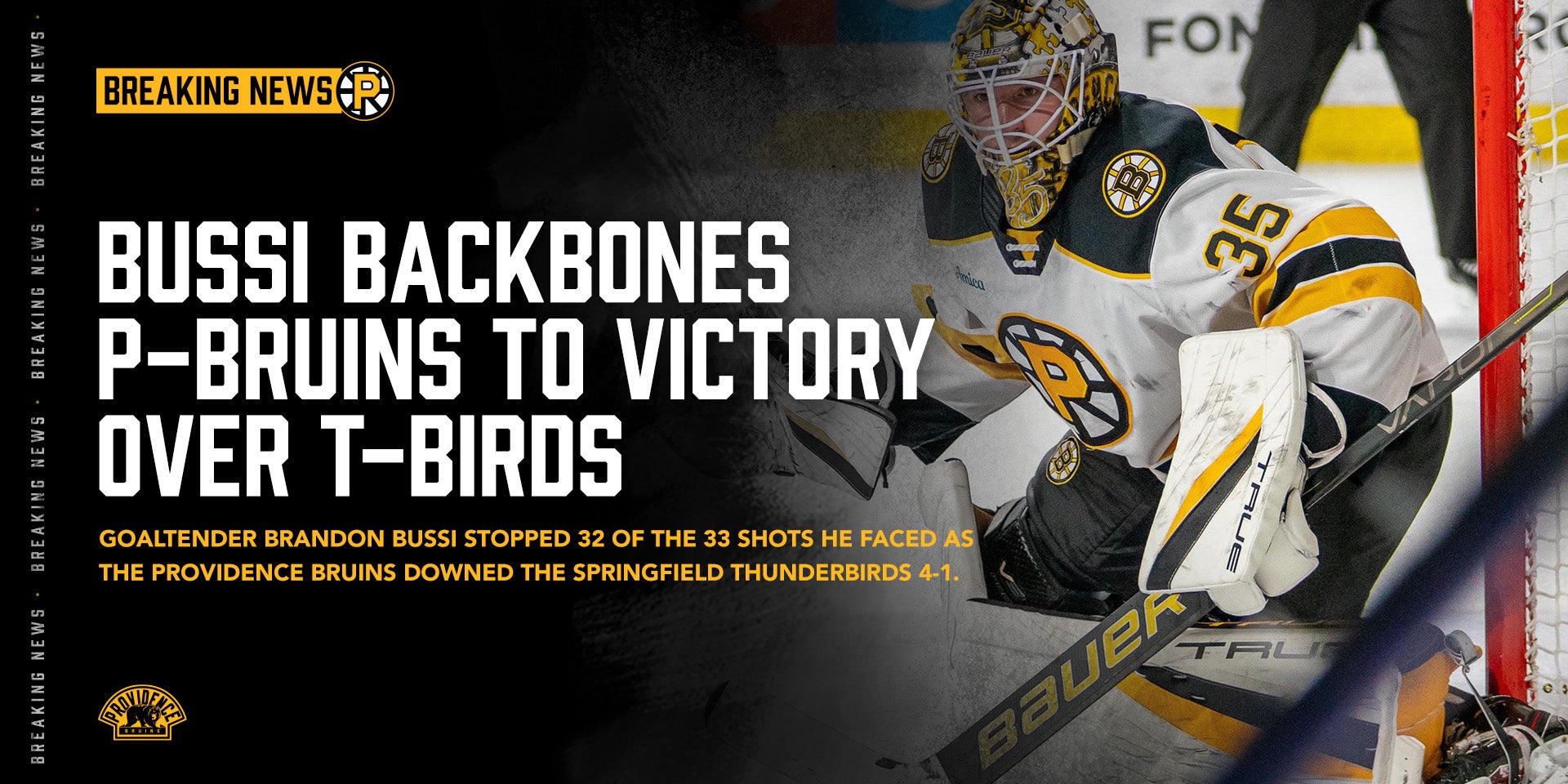 BUSSI BACKBONES P-BRUINS TO VICTORY OVER T-BIRDS
Mar 19, 2023
Springfield, MA - Goaltender Brandon Bussi stopped 32 of the 33 shots he faced as the Providence Bruins downed the Springfield Thunderbirds 4-1 on Saturday night at the MassMutual Center. John Beecher tallied the game-winning goal, while Chris Wagner notched a goal and an assist.
How It Happened
Curtis Hall pulled the puck out of a defender's skates in the left circle, pushed it between the hash marks, and smacked the rolling puck under the goaltender's pads to give the P-Bruins a 1-0 lead with 14:16 remaining in the first period. Marc McLaughlin and Dan Renouf were credited with assists on the goal.
On a 2-on-1, Wagner took the puck up the right wing and found Beecher cutting to the left post for a redirection goal, extending the Providence lead to 2-0 with 12:46 to play in the first period. Joona Koppanen received a secondary assist.
Matthew Highmore deflected a shot from the point, sending the puck trickling on edge to the left post, where Martin Frk flipped it across the goal line to cut the P-Bruins lead to 2-1 with 1:59 remaining in the second period.
While on the power play, Georgii Merkulov intercepted a clearing attempt in the slot, turned and fired a shot that deflected off a defender and inside the right post, giving Providence a 3-1 lead with 6:32 left in the third period.
Wagner deked out a defender and tucked it into the empty net to give the P-Bruins a 4-1 lead with 2:09 to play in the third.
Stats
Hall's goal was his first of the season.
Wagner is riding a three-game point streak and has five total points in that span.
Merkulov has points in three straight games and three goals in his last two contests.
Bussi stopped 32 of 33 shots faced. Providence totaled 36 shots.
The P-Bruins power play went 1-for-2, and the penalty kill was 3-for-3.
Next Game
The P-Bruins host the Springfield Thunderbirds on Sunday, March 19 at the Amica Mutual Pavilion in the first ever Teddy Bear Toss game in team history. Puck drop is set for 3:05 p.m. ET.
#03/18/23#
Back to All