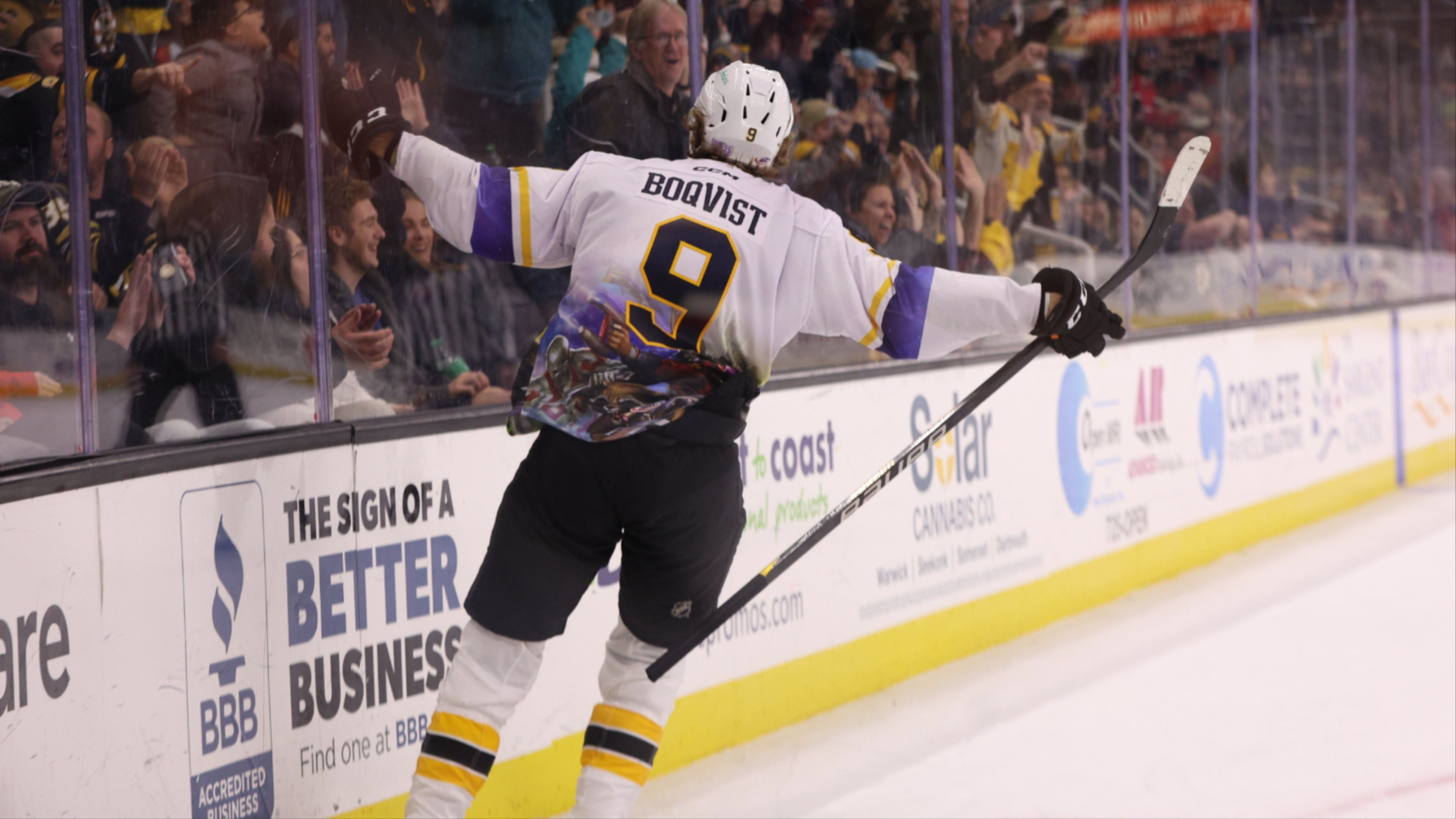 BOQVIST'S OVERTIME WINNER LIFTS P-BRUINS PAST WOLF PACK
Nov 12, 2023
Providence, RI - Forward Jesper Boqvist netted the game-winning goal in overtime, lifting the Providence Bruins past the Hartford Wolf Pack 3-2 on Sunday evening at the Amica Mutual Pavilion. Marc McLaughlin and Anthony Richard scored the other Providence goals, while John Farinacci and Fabian Lysell each posted two assists. Goaltender Brandon Bussi stopped 35 shots to earn his fourth straight victory.
How It Happened
Jakub Zboril's slap shot from the point deflected off Richard's stick in the slot and trickled under the goaltender's pads for a power play goal, giving the P-Bruins a 1-0 lead with 11:43 remaining in the second period. Farinacci received a secondary assist.
Brandon Scanlin's wrist shot from the top of the slot found the back of the net, tying the game at 1-1 with 14:50 left in the third period.
While on the power play, Farinacci zipped a pass from the left circle to McLaughlin on top of the blue paint, where he redirected the puck across the goal line, giving Providence a 2-1 lead with 8:22 to play in the third period. Lysell was credited with the secondary assist.
Jonny Brodzinski's one-timer from the point tied the game at 2-2 with 2:10 remaining in the third period.
Lysell fed a pass to Boqvist up the seam, who broke away from the defense and flipped a shot over the goaltender's shoulder, giving the P-Bruins the win 1:42 into overtime.
Stats
Bussi stopped 35 of the 37 shots he faced. The P-Bruins totaled 31 shots.
The Providence power play went 2-for-3, and the penalty kill was 2-for-2.
Up Next
The Providence Bruins host the Wilkes-Barre/Scranton Penguins on Friday, November 17 at the Amica Mutual Pavilion. Puck drop is set for 7:05 P.M.
#11/12/23#
Back to All