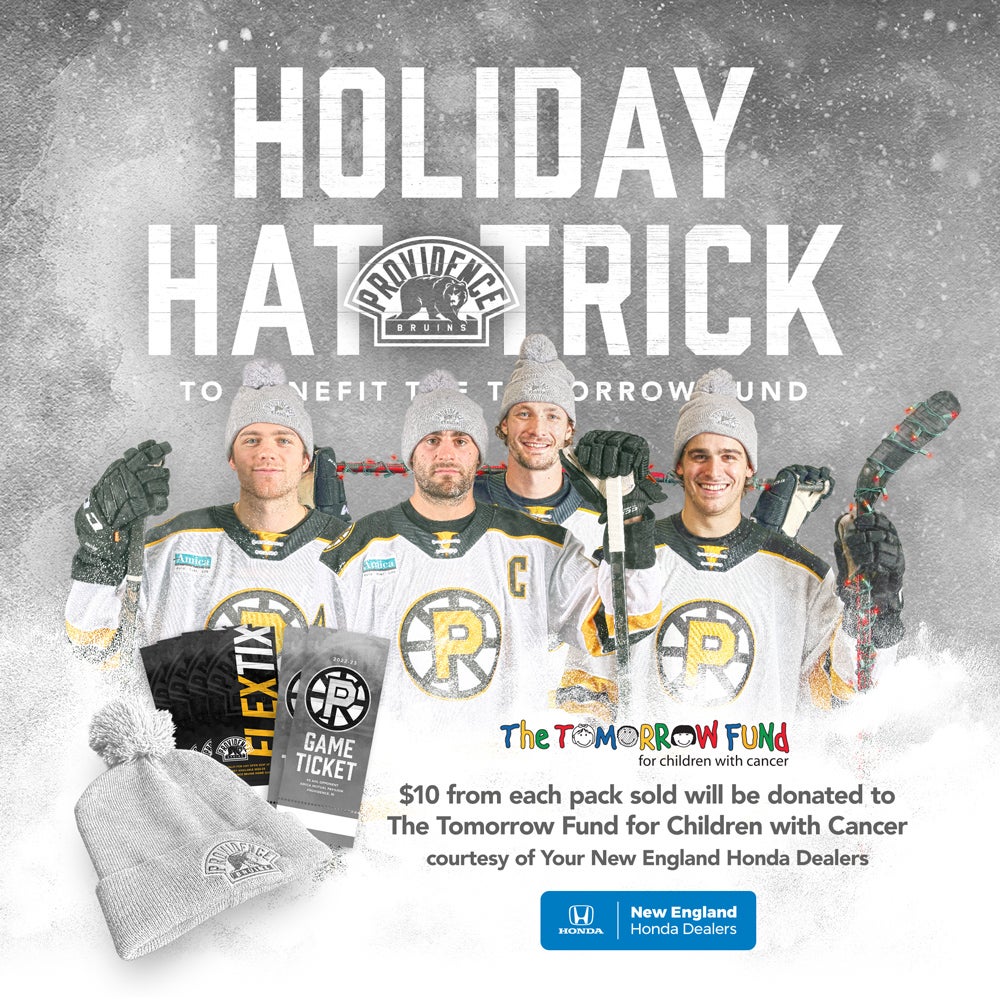 Holiday Hat Trick
supporting the Tomorrow Fund for Children with Cancer
Give a gift the whole gang will love with the Providence Bruins Holiday Hat Trick! Get 2 tickets for your choice of home game on December 11th, December 16th, January 8th or January 13th; 4 FlexTix; and a Whiteout Winter Hat - PLUS $10 from each pack sold will be donated to the Tomorrow Fund courtesy of Your New England Honda Dealers!
Offer includes:
Two (2) tickets to choice of select Home Games
Choose from: Dec 11th; Dec 16th;Jan 8th or Jan 13th home games!
+
Four (4) P-Bruins FlexTix
OPTION TO REDEEM FOR ADDITIONAL TICKETS ON THE NIGHT YOU CHOOSE!
+
One (1) Whiteout Winter Hat
Limited-Edition 'Whiteout' hat available exclusively through this pack!
+
PLUS $10 from each pack sold will be donated to The Tomorrow Fund for Children with Cancer
Courtesy of Your New England Honda Dealers
PRICING: $105 per pack | 100 Level Seating
$85 per pack | 200 Level Seating
---

About The Tomorrow Fund
The Tomorrow Fund provides daily financial and emotional support to children with cancer and their families. Kids treated in the Pediatric Oncology Program and The Tomorrow Fund Clinic at Hasbro Children's Hospital in Providence, Rhode Island receive our support. These vital programs are made available to our patients and families from the time of diagnosis, throughout treatment, into recovery and beyond. We rely solely on contributions to fund our programs.
Learn more at tomorrowfund.org
---