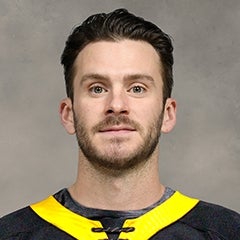 Paul Carey
RW
#28
DOB: 9/24/1988
Ht: 6-1
Wt: 196
Shoots: L
Years on Team: 1
Hometown: Weymouth, MA
2017-18: Spent the entire season in the National Hockey League for the first time and established new career highs in goals (seven), assists (seven), points (14), games (60) and penalty minutes (20) while skating in his lone season for the N.Y. Rangers … Recorded the first multi-goal (two) and multi-point (two) game of his NHL career in the Rangers' 4-1 home win vs. Anaheim on Dec. 19 … Set an NHL career high by way of earning at least one point in four consecutive games from Dec. 1 to Dec. 9 … Scored the first game-winning goal of his NHL career to help New York to a 3-2 win at Edmonton on March 3.
2015-16: Signed with the Capitals on July 8…made his Bears debut on Oct. 10, recording an assist versus Springfield…scored his first goal with the Bears on Oct. 18 versus Portland...Scored 31 points (13-18-31) in 44 games with the Bears…appeared in four games with Washington, notching his first NHL goal versus New Jersey on Feb. 6.
CAREER – 2014-15:  Acquired by Boston, along with Maxime Talbot, for Jordan Caron and a 2016 sixth-round pick from Colorado on March 2…Appeared in 17 games with AHL Providence, posting seven points (2-5-7)…Prior to his trade, dressed in 43 games with AHL Lake Erie, recording 27 points (13-14-27)…Posted one assist in 10 games with Colorado. 2013-14:  Registered 21 points (8-13-21) in 54 games with the Lake Erie Monsters…Made his NHL debut with the Avalanche on March 12…Dressed in 12 games in Colorado.  2012-13:  Notched 41 points (19-22-41) in 72 games in Lake Erie, tying for third on the team in goals and ranking fourth in assists and points.  2011-12:  Made his AHL debut with Lake Erie on April 13 vs. Hamilton…Finished his senior season at Boston College (HE) with 30 points (18-12-30) in 44 games…Won his second National Championship with the Eagles, scoring the championship-winning goal against Ferris State University…Selected to the Frozen Four All-Tournament Team.  2010-11:  Tallied 26 points (13-13-26) in 38 games at Boston College, winning the Hockey East title.  2009-10:  Recorded 21 points (9-12-21) in 41 games with the Eagles, capturing his first National Championship.  2008-09:  Registered nine points (5-4-9) in 24 games as a freshman at Boston College.
Read More