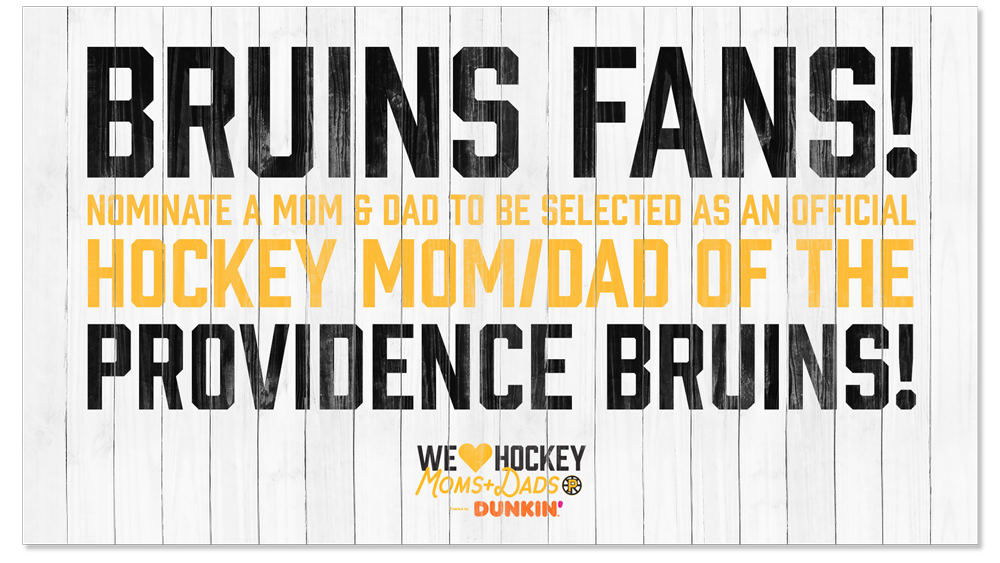 Nominate Your Hockey Mom/Dad for the chance to win!
Nominate a deserving Hockey Mom or Dad for the chance to be selected as the Official Hockey Mom or Dad of the Providence Bruins, fueled by Dunkin'!
One monthly winner will receive a Dunkin' prize pack, to include (50) $5 Dunkin' gift cards, to distribute to the "Hockey Parents'" entire team; This Hockey Family Runs on Dunkin' bumper stickers; and Dunkin' mugs or other merchandise!
Contest Rules

Nominees will be submitted online via the form on this page. One winner will be selected on a monthly basis.

Winners will be recognized on the Providence Bruins' social media channels and during home game broadcast on AHLTV. Winners will also receive a Dunkin' prize pack, to include:

(50) $5 Dunkin' gift cards, to distribute to the "Hockey Parents'" entire team
This Hockey Family Runs on Dunkin' bumper stickers
Dunkin' mugs / other merchandise

2020-21 Winners

Below are the Hockey Mom & Dad winners so far this season:

February: Nicole & Anthony Quetta

March: Brian & Deb Hervieux

April: Beth & Nate Kirmmse

May: Leslie Saylor

June: Brian Clark

July: Pete Hill

2021-22 Winners

November Winner: Chris Berard