Providence Bruins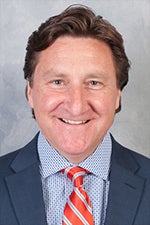 JOHN FERGUSON
GENERAL MANAGER
John Ferguson is in his sixth season in the Bruins organization, as he joined the hockey operations staff on June 27, 2014, and was named General Manager of the Providence Bruins on September 15, 2016.
In addition to his role as General Manager in Providence, he serves as the Executive Director of Player Personnel for the Boston Bruins, scouting at the professional and amateur levels with an eye to adding both prospects and roster players to the team. He also serves as an advisor in evaluating potential trades, signings and other transactions.
The Montreal native brought a wealth of experience to Boston's front office, as he joined the Bruins having run every facet of a hockey operations department. He has previously served for six seasons as the Director of Pro Scouting for the San Jose Sharks (2008-14), four-plus seasons as Vice President and General Manager of the Toronto Maple Leafs (2003-08), and six seasons as Assistant General Manager and Director of Hockey Operations with the St. Louis Blues (1997-2003). He has also been both an amateur and professional scout for the Ottawa Senators.
Ferguson played college hockey at Providence College and was drafted by Montreal as a 12th round selection in the 1985 NHL Entry Draft. He played four seasons at the AHL level before earning his law degree in 1995, and he was a player agent for one season in 1996-97.
He and his wife Stephanie have four children, sons Johnny and Nicholas and daughters Emily and Grace.

---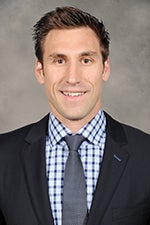 JAY LEACH
HEAD COACH
Jay Leach was named the 12th head coach of the Providence Bruins on July 31, 2017 after serving as an assistant coach for the team during the 2016-17 season. The former captain of the Providence Bruins and Providence College Friars enters his third season as an AHL head coach. He is the third former Providence captain to come back and serve as the team's head coach, with Peter Laviolette and Bill Armstrong being the others.
Leach served as assistant coach of the Wilkes-Barre/Scranton Penguins in 2015-16, helping the team advance to the quarterfinals of the 2016 Calder Cup Playoffs. He was an assistant coach for Adler Mannheim of the Deutsche Eishockey Liga (DEL) in Germany in 2014-15 and helped lead that team to the league championship.
A native of Syracuse, New York, Leach was originally selected 115th overall by the Arizona Coyotes in the fifth round of the 1998 NHL Entry Draft and played 11 professional seasons from 2001-13. He appeared in 70 games at the NHL level with the New Jersey Devils, San Jose Sharks, Montreal Canadiens, Tampa Bay Lightning and Boston Bruins, registering three points on one goal and two assists with 60 penalty minutes.
The 6-foot-4, 220-pound defenseman also compiled 25 goals and 62 assists for 87 points with 608 penalty minutes and a plus-34 rating at the AHL level with the Albany Devils, Worcester Sharks, Lowell Devils, Portland Pirates, Norfolk Admirals, Providence Bruins, Bridgeport Sound Tigers and Springfield Falcons. In addition to captaining the Providence Bruins from 2005-07, he served as captain of the Worcester Sharks in 2010-11 and the Albany Devils in 2012-13. He finished his P-Bruins career with 11 goals and 21 assists for 32 points in 209 games with 324 penalty minutes and a +17 rating.
Prior to his professional career, Leach played four seasons at Providence College from 1997-2001. As a senior in 2000-01, he served as team captain and established career highs with four goals and 21 assists for 25 points in 40 games. Overall he suited up in 142 games for the Friars, totaling six goals and 46 assists for 52 points while amassing 276 penalty minutes.

---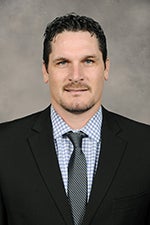 TRENT WHITFIELD
ASSISTANT COACH
Trent Whitfield enters his fourth season as an assistant coach for the Providence Bruins. He recently served as assistant coach of the Calgary Hitmen of the Western Hockey League (WHL) in 2015-16. The previous season he was assistant coach of the Portland Pirates of the American Hockey League (AHL) in 2014-15.
Whitfield enjoyed a successful 15-year playing career at the ECHL, AHL and NHL levels. The 5-foot-11, 209-pound forward skated in 194 NHL games with the Boston Bruins, St. Louis Blues, Washington Capitals and N.Y. Rangers, compiling 11 goals and 18 assists for 29 points with 104 penalty minutes. He also made 18 NHL playoff game appearances, including four with the Bruins. Whitfield played in 812 games at the AHL level with the Providence Bruins, Peoria Rivermen and Portland Pirates, totaling 247 goals and 349 assists for 596 points with 564 penalty minutes. During his final season as a pro, Whitfield was the alternate captain of HC Bolzano of the Austrian Hockey League (EBEL) in 2013-14, where he recorded 14 goals and 18 assists for 32 points in 54 games.
Whitfield served as a captain on six teams, in addition to his one season as an alternate captain for HC Bolzano in 2013-14. He wore the "C" for the Providence Bruins in 2009-10, 2011-12 and 2012-13, for the Peoria Rivermen in 2008-09 and for the Spokane Chiefs (WHL) in 1996-97.
The Alameda, Saskatchewan native was originally selected by the Bruins in the fourth round (100th overall) of the 1996 NHL Entry Draft.

---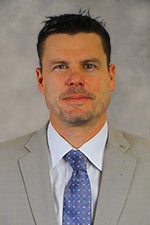 RYAN MOUGENEL
ASSISTANT COACH
Mougenel enters his second season as an assistant coach with the Providence Bruins after spending the previous four seasons as an assistant coach with San Jose's AHL affiliates. He began working under head coach Roy Sommer in 2014 with the Worcester Sharks and kept his role as when the franchise relocated to San Jose as the Barracuda. Mougenel's teams made the playoffs each of those seasons highlighted by a Pacific Division Championship and run to the Conference Finals in 2017. His first taste of AHL coaching experience came in 2013-14 as an assistant coach with Hershey.
The native of Scarborough, Ontario got his coaching start in the ECHL with the Fresno Falcons from 2005-2009. Working as the assistant coach, his team made the postseason in each of his first three seasons. He then moved on to become the head coach of the ECHL's Las Vegas Wranglers from 2009-13. The Wranglers qualified for the postseason with Mougenel at the helm in each of his four seasons, highlighted by a run to the Finals in 2011-12. He was a head coach in the 2011 ECHL All Star game and was promoted to General Manager of Las Vegas during his final ECHL season.
Prior to coaching, Mougenel played parts of six pro seasons between the AHL and ECHL. His lone season of AHL action came with Rochester in 1999-00, suiting up in 20 games for the Amerks registering a goal. He spent five years in the ECHL from 1997-03 with Atlantic City, Chesapeake, Hampton Roads and Jackson scoring 105 points (46g-59a) and 271 penalty minutes over 180 games. He was part of Atlantic City's 2003 Kelly Cup Championship team, scoring a goal and eight assists over 17 playoff games.
---
Sean Andrake

SEAN ANDRAKE
VIDEO COORDINATOR

Sean Andrake enters his first season with the Providence Bruins in the role of Video Coordinator. Prior to coming to Providence, Andrake worked with the NHL's Dallas Stars as an assistant video coach during the 2018-19 season. Before his time in Dallas, Andrake served on the staffs of multiple AHL teams as a video coordinator, including the Wilkes-Barre/Scranton Penguins, Albany Devils and Worcester Sharks.

Dustin Stuck

DUSTIN STUCK
HEAD ATHLETIC TRAINER

Entering his third year with the Providence Bruins, Dustin Stuck will serve as the Head Athletic Trainer in 2019-20. Prior to coming to Providence, Stuck recently finished his Graduate Assistantship at Penn State University working as an Athletic Trainer. He obtained his Master's Degree from Penn State University in Educational Leadership and Administration as well as receiving his Bachelor of Science in Athletic Training from Alvernia University. Stuck spent several years as a volunteer Athletic Trainer for the Hershey Bears and the 25-year-old from Palmyra, Pennsylvania currently resides with his wife Rachel.

Rob Tagle

ROB TAGLE
ASSISTANT ATHLETIC TRAINER

Rob Tagle is entering his first season as the Assistant Athletic Trainer with the Providence Bruins. A native of West Freehold, New Jersey, Tagle spent the last two seasons with the ECHL's Worcester Railers, serving as the Head Athletic Trainer and Strength Coach. Prior to his time in Worcester, Tagle served as the Head Athletic Trainer with the Western Hockey League's Everett Silvertips. Before moving out west to Everett, Tagle spent one season with the AHL's Wilkes-Barre/Scranton Penguins as the team's Assistant Athletic Trainer.

Tim Lebbossiere

TIM LEBBOSSIERE
STRENGTH & CONDITIONING COACH

Returning to the Bruins after one year with the organization, Tim Lebbossiere enters his second year with Providence as the Strength and Conditioning Coach. Prior to joining the P-Bruins, Lebbossiere spent last season as a Graduate Assistant Strength and Conditioning Coach at Lindenwood University. He spent 2016-17 as a Volunteer Assistant Strength and Conditioning Coach at Quinnipiac University. Lebbossiere also spent time with USA Hockey, UMass Lowell and DC Strength and Fitness. Currently living in North Providence, he received a Bachelor of Science in Applied Exercise Science from Springfield College in 2016 and is finishing his Master of Science in Human Performance from Lindenwood.

Anthony Pelleccione

ANTHONY PELLECCIONE
HEAD EQUIPMENT MANAGER

In his sixth season with Providence, Anthony Pelleccione is in his third year as the Head Equipment Manager for the P-Bruins. Prior to his promotion, Pelleccione was an Assistant Equipment Manager for the P-Bruins for nearly two years and broke in with the organization as a member of game night equipment staff. Pelleccione obtained a Bachelor of Science from New England Institute of Technology in Criminal Justice in 2016 and currently resides in North Kingston, Rhode Island.

Corey Wood

COREY WOOD
ASST. EQUIPMENT MANAGER

Corey Wood enters his first season with the Providence Bruins and will serve as the Assistant Equipment Manager in 2019-20. Prior to being hired by the P-Bruins, Wood served as the Assistant Equipment Manager for the AHL's Albany Devils. Wood served on Albany's staff for both the 2015-16 and 2016-17 seasons.

David Pezzullo

DAVID PEZZULLO
PHYSICAL THERAPIST

Entering his ninth season with Providence, David Pezzullo comes into this season as the P-Bruins Physical Therapist. Prior to working with the Providence Bruins, Pezzullo served as the Athletic Trainer and Physical Therapist for the University of Rhode Island Men's and Women's Ice Hockey team. Pezzullo received his Bachelor of Science in Physical Therapy from the University of Connecticut and a Master's of Science in Sports and Orthopedic Physical Therapy from the University of Pittsburgh. He currently resides in Narragansett, Rhode Island with his wife Shelby and their two children, Alyssa and Thomas.

Chris Krenn

CHRIS KRENN
COMMUNICATIONS

Chris Krenn enters his first season with the Bruins and will serve as the primary media contact for the team in 2019-20. Prior to being hired by the Bruins, Krenn served as the Brian Fishman Intern with USA Hockey in Colorado Springs, Colorado and Plymouth, Michigan. Before joining USA Hockey, Krenn worked in Columbus, Ohio as the Communications Graduate Assistant with the Columbus Blue Jackets. Before his time in Columbus, Krenn's career in hockey began with the Tampa Bay Lightning as a Public Relations Intern.