Providence Bruins
T-BIRDS SOAR PAST P-BRUINS 4-2

Mar 2, 2019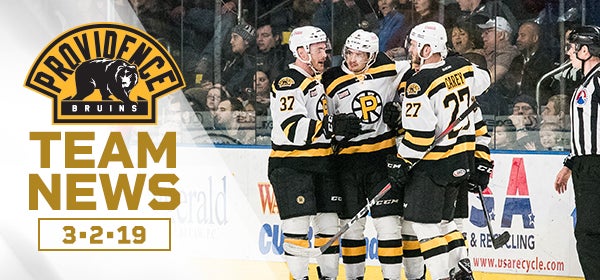 T-BIRDS SOAR PAST P-BRUINS 4-2
Mar 2, 2019
T-BIRDS SOAR PAST P-BRUINS 4-2
Springfield, MA – The Providence Bruins fell to the Springfield Thunderbirds Saturday night 4-2 in the first half of their home-and-home series. The P-Bruins got goals from Paul Carey and Emil Johansson while Dan Vladar made his 24th start of the season in net.
Despite two early power plays for Providence, Springfield struck first with 5:16 left in the opening period. Paul Thompson beat Vladar with a nice wrister while falling down in the high slot to give the T-Birds a 1-0 lead. The P-Bruins, who had plenty of zone time in the period, tied the score with just 29 seconds left in the frame. Off a good pass from Karson Kuhlman, Paul Carey blasted a one-timer from the right point by Chris Driedger for his 14th goal of the season. Jakob Forsbacka Karlsson, playing his first game in a month due to injury, picked up the secondary assist on the play as the teams entered the intermission tied 1-1.
The game continued to be an evenly matched affair well into the second period, but a power play chance gave Springfield the lead once again. With 7:08 left in the period, Juho Lammikko fed Matt Mangene with a perfect cross-ice pass. Mangene snapped in his sixth goal of the season from the right slot and the Thunderbirds took a 2-1 lead after 40 minutes.
At 8:46 in the final period, Riley Stillman's wrister gave Springfield some breathing room and a 3-1 lead. The score remained that way until late in the third, when Providence made it a one-goal game again. With just 2:08 left and the goaltender pulled for an extra attacker, Johansson's slapper from the point deflected off a Springfield defender and in for his third goal of the season. Wiley Sherman and Carey picked up helpers on the play that made it 3-2. However, Jean-Sebastien Dea netted an empty net goal to seal the deal for the Thunderbirds and give them a 4-2 win.
Vladar stopped 28 of 31 shots while Driedger stopped 27 of 29 shots. Providence was 0-4 on the power play and 1-2 on the penalty kill. These two teams are back in action tomorrow afternoon in Providence when they will have a 3:05pm rematch at the Dunkin' Donuts Center.
- - - - -
The Providence Bruins are the American Hockey League affiliate of the NHL's Boston Bruins, playing their home games at the Dunkin' Donuts Center in Providence, RI. Spanning more than 25 years, the Boston/Providence affiliation is one of the longest and most successful player development partnerships in professional hockey history.
For all the latest Providence Bruins news and updates visit ProvidenceBruins.com or follow the team on Facebook at facebook.com/providencebruins or Twitter at twitter.com/AHLBruins.
- - - - -
#3/2/2019#