Providence Bruins
SZWARZ'S OT GOAL LEADS P-BRUINS TO 3-2 WIN IN HARTFORD

Feb 23, 2019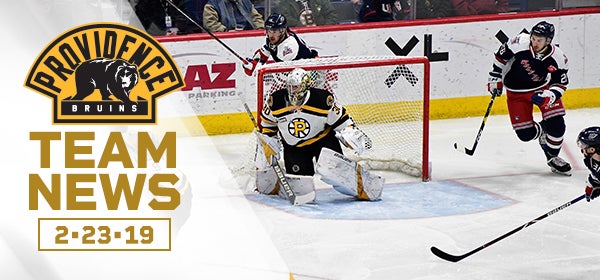 SZWARZ'S OT GOAL LEADS P-BRUINS TO 3-2 WIN IN HARTFORD
Feb 23, 2019
SZWARZ'S OT GOAL LEADS P-BRUINS TO 3-2 WIN IN HARTFORD
Hartford, CT – The Providence Bruins defeated the Hartford Wolf Pack Saturday night in overtime 3-2, ending their three-game winless streak. The P-Bruins got goals from Lee Stempniak, Gemel Smith and Jordan Szwarz while Dan Vladar made his 22nd start of the season in net.
The P-Bruins offense came out firing in the first on the strength of two power plays, but despite a 9-3 edge in shots through nine minutes they could not break through. Stempniak had some tough luck, ringing a shot off the post on the man advantage. However, he would light the lamp later in the period and put Providence on the board first at 13:23. Ryan FItzgerald stole the puck and led Stempniak into the offensive zone with a great pass. On a breakaway, Stempniak beat Brandon Halverson on a backhand shot for his second goal of the season and the P-Bruins took a 1-0 lead after one.
Midway through the second period, Hartford tied the score off a Providence turnover. Ty Ronning stole the puck in the Bruin defensive zone and started a breakaway towards Vladar. He deked and scored his third goal of the season to make the score 1-1. With just 2:58 left in the period, Smith helped Providence regain the lead right after the conclusion of a power play. With assists from Trent Frederic and Jakub Zboril, Smith juked a defender and beat Halverson with a wrister for his 11th goal of the year to give the P-Bruins a 2-1 lead into the second intermission.
Vinni Lettieri tied the score up 2-2 with a shorthanded goal 2:59 into the third period, a tally that sent the game into overtime. It did not take long for Providence to win it in the extra frame, as Szwarz netted his team-leading 18th goal 1:26 in. Szwarz and Connor Clifton started a 2-on-1 break with delaying and holding a pass. He fed Szwarz in front at the last second for a tip-in goal and the P-Bruins walked away 3-2 winners.
Vladar stopped 25 of 27 shots while Halverson stopped 24 of 27 shots. Providence was 0-5 on the power play and 6-6 on the penalty kill. The P-Bruins and Wolf Pack will rematch tomorrow afternoon at 3:05pm at the Dunkin Donuts Center in the Providence half of this home-and-home series.
- - - - -
The Providence Bruins are the American Hockey League affiliate of the NHL's Boston Bruins, playing their home games at the Dunkin' Donuts Center in Providence, RI. Spanning more than 25 years, the Boston/Providence affiliation is one of the longest and most successful player development partnerships in professional hockey history.
For all the latest Providence Bruins news and updates visit ProvidenceBruins.com or follow the team on Facebook at facebook.com/providencebruins or Twitter at twitter.com/AHLBruins.
- - - - -
#2/23/2019#