Providence Bruins
SOUND TIGERS SNAP P-BRUINS 12-GAME POINT STREAK

Feb 9, 2019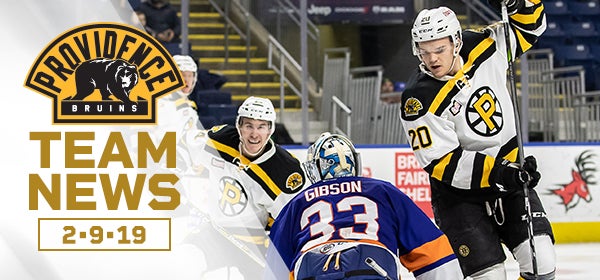 SOUND TIGERS SNAP P-BRUINS 12-GAME POINT STREAK
Feb 9, 2019
SOUND TIGERS SNAP P-BRUINS 12-GAME POINT STREAK
Bridgeport, CT – The Providence Bruins fell to the Bridgeport Sound Tigers Saturday night 4-2, ending their season-high 12 game point streak. The P-Bruins got goals from Emil Johansson and Cameron Hughes while Dan Vladar made his 20th start of the season in net.
The two teams spent most of the first period feeling each other out, as neither side had many great chances and headed to the intermission scoreless. Providence struck first early in the second period on Johansson's second goal of the season. Gemel Smith led Kyle Cumiskey into the attacking zone, and he left a drop-pass for Johansson in close. He beat Christopher Gibson 1:51 into the period for his second goal of the year and the P-Bruins took a 1-0 lead. Hughes made it 2-0 at 5:22 with his 12th goal of the season on a beautiful pass from Smith. After getting the puck down low from Cumiskey, he sent the puck through traffic to Hughes backdoor to give his team a 2-0 lead.
Sebastian Aho cut the Providence lead to one, taking a cross-ice feed from Tanner Fritz and one-timing a shot in for his fourth goal of the season. John Stevens tied it up at 14:28, putting in a Travis St. Denis rebound in for his first goal of the season. The P-Bruins had chances to score with a 5-on-3 power play and six second period power plays, but after 40 minutes Providence and Bridgeport remained tied 2-2.
Midway through the final period, the Sound Tigers grabbed their first lead of the night on a goal from Fritz. Former P-Bruin Chris Casto fired a shot from the right point that Vladar initially stopped, but the rebound went right to Fritz in the slot. He poked it through him for his tenth goal of the season at 10:24 and Bridgeport took a 3-2 lead. Providence struggled to get great looks and was forced to pull their goaltender, but an empty net goal from Otto Koivula sealed a 4-2 Sound Tigers win.
Vladar stopped 22-25 shots while Gibson stopped 20-22 shots. Providence was 0-8 on the power play and 4-4 on the penalty kill. The P-Bruins conclude their weekend tomorrow afternoon at 3:05pm when they welcome the Syracuse Crunch to the Dunk.
- - - - -
The Providence Bruins are the American Hockey League affiliate of the NHL's Boston Bruins, playing their home games at the Dunkin' Donuts Center in Providence, RI. Spanning more than 25 years, the Boston/Providence affiliation is one of the longest and most successful player development partnerships in professional hockey history.
For all the latest Providence Bruins news and updates visit ProvidenceBruins.com or follow the team on Facebook at facebook.com/providencebruins or Twitter at twitter.com/AHLBruins.
- - - - -
#2/9/2019#