Providence Bruins
PAUL CAREY AND JACK STUDNICKA SELECTED TO 2020 AHL ALL-STAR TEAM

Jan 3, 2020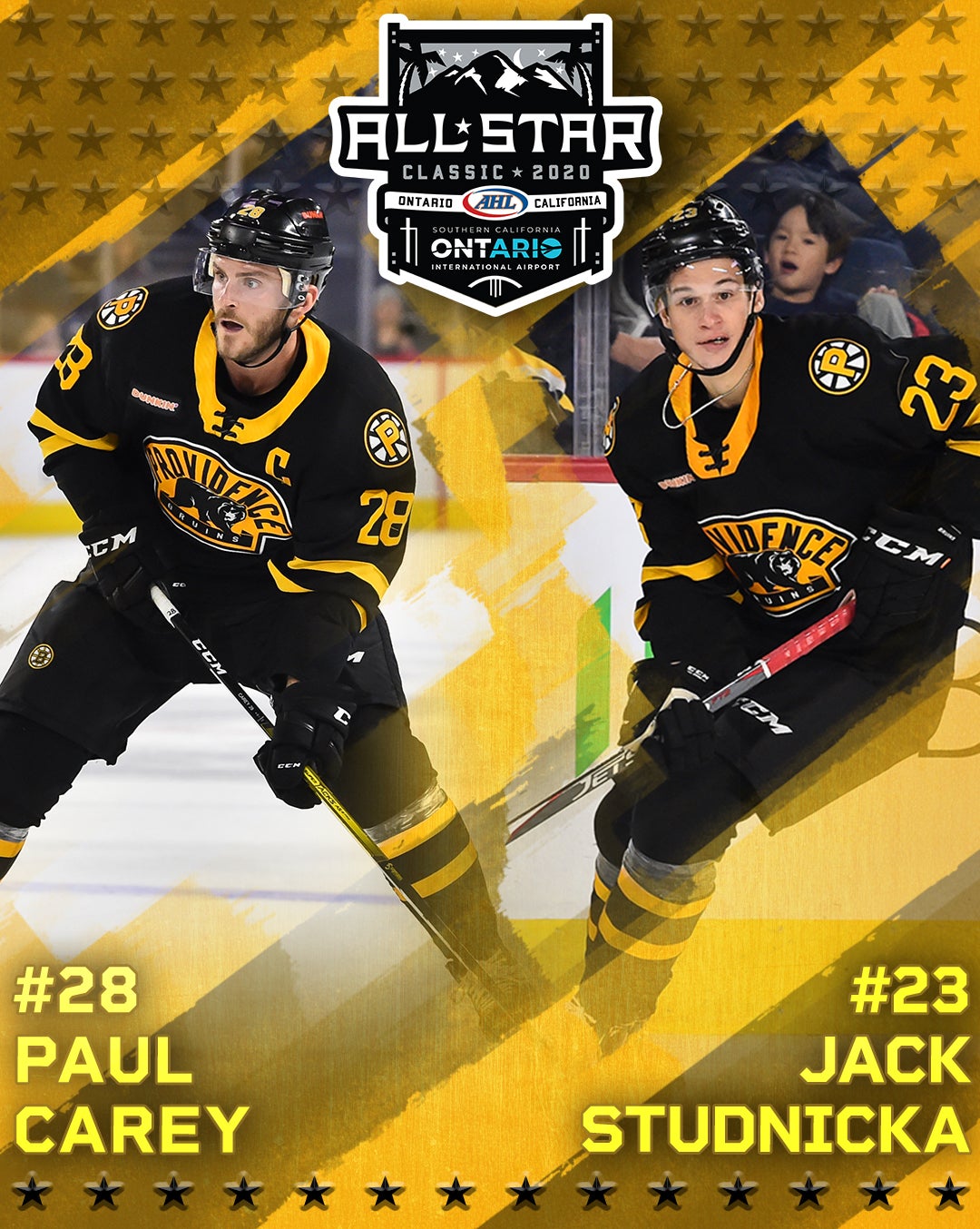 PAUL CAREY AND JACK STUDNICKA SELECTED TO 2020 AHL ALL-STAR TEAM
Jan 3, 2020
PAUL CAREY AND JACK STUDNICKA SELECTED TO 2020 AHL ALL-STAR TEAM
PROVIDENCE, R.I. - The American Hockey League announced today, January 3, that Providence Bruins forwards Paul Carey and Jack Studnicka have been selected to represent the Atlantic Division at the 2020 AHL All-Star Classic presented by Ontario International Airport. This marks the first career AHL All-Star selection for both Carey and Studnicka.
Carey, who is serving as captain of the P-Bruins for the first time this season, has skated in 34 games this season, scoring 14 goals and adding 11 assists for 25 points. The Weymouth, Massachusetts native has recorded a +11 rating, scored two game-winning goals and collected six multi-point games for Providence this season.
The 31-year-old has skated in 380 career AHL games, scoring 120 goals and adding 147 assists for 267 points.
Studnicka, who is playing in his rookie season with Providence, currently leads the AHL with five shorthanded goals on the year. The Windsor, Ontario native has skated in 33 games, scoring 14 goals and adding 12 assists for 26 points. His 14 goals rank second amongst rookies and his 26 points rank fourth this season.
The 2020 AHL All-Star Classic will be held at Citizens Business Bank Arena in Ontario, California, on January 26-27, 2020. The event will include the AHL All-Star Skills Competition on Sunday, January 26, followed by the AHL Hall of Fame Induction and Awards Ceremony on Monday, January 27 and the 2020 AHL All-Star Challenge that evening.
#1/3/20#