Providence Bruins
P-BRUINS WIN ON OT PENALTY SHOT FROM FITZGERALD

Dec 1, 2018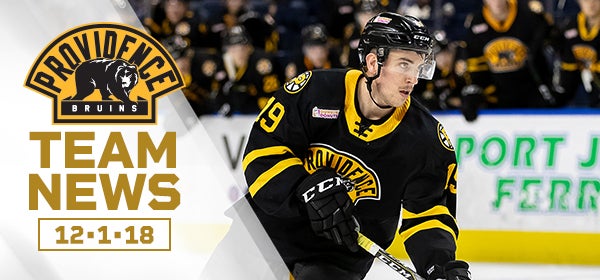 P-BRUINS WIN ON OT PENALTY SHOT FROM FITZGERALD
Dec 1, 2018
P-BRUINS WIN ON OT PENALTY SHOT FROM FITZGERALD
Bridgeport, CT – The Providence Bruins defeated the Bridgeport Sound Tigers in overtime Saturday night 2-1, pushing their point streak up to six games. The P-Bruins got goals from Wiley Sherman and Ryan Fitzgerald while Dan Vladar made his ninth start of the season in net.
Providence had three power plays in the opening period, but could get nothing through Sound Tigers goalie Christopher Gibson in the first. Late in the frame each side came close to cracking the scoreboard, as Martin Bakos for the Bruins and Tanner Fritz for the Sound Tigers rang the iron. Providence outshot Bridgeport 10-7 in the period, but the sides headed to the intermission scoreless.
Sherman put the P-Bruins out in front 5:48 into the second period with his second goal of the season. Austin Fyten fired the initial shot on Gibson that went wide to the corner where Anton Blidh corralled it. Blidh charged the net to draw the attention of the defense, but after getting in close passed to Sherman at the left halfboards. With Fyten screening in front, his shot hit the back of the net to give Providence a 1-0 lead after two periods.
Bridgeport tied things up 1-1 just 1:54 into the final frame on a beautiful goal and set-up. Josh Ho-Sang fought for and won the puck in the left corner and sent a great backhand feed to Parker Wotherspoon at the right dot. He blasted a one-timer by Vladar for his third goal of the season and eventually the game headed to overtime tied 1-1. Fitzgerald looked to be heading for a breakaway overtime chance midway through the extra period, but was hooked by a Bridgeport defender to break up the look. However, the referee awarded a penalty shot to Fitzgerald at 3:04, and he did not disappoint. Walking in slowly, he fired a forehand shot over the shoulder Gibson for his seventh goal of the season and gave Providence the 2-1 win.
Vladar stopped 29-30 shots while Gibson stopped 27-29. Providence was 0-5 on the power play and 1-6 on the penalty kill. The P-Bruins conclude their weekend of action tomorrow night at the Dunk when they take on the first place Charlotte Checkers at 3:05pm.
- - - - -
The Providence Bruins are the American Hockey League affiliate of the NHL's Boston Bruins, playing their home games at the Dunkin' Donuts Center in Providence, RI. Spanning more than 25 years, the Boston/Providence affiliation is one of the longest and most successful player development partnerships in professional hockey history.
For all the latest Providence Bruins news and updates visit ProvidenceBruins.com or follow the team on Facebook at facebook.com/providencebruins or Twitter at twitter.com/AHLBruins.
- - - - -
#12/1/2018#