Providence Bruins
P-BRUINS WEEK IN REVIEW: 12/5/18 – 12/10/18

Dec 10, 2018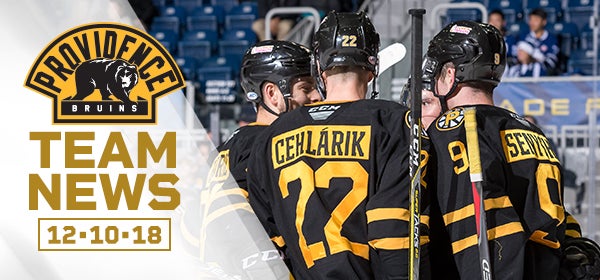 P-BRUINS WEEK IN REVIEW: 12/5/18 – 12/10/18
Dec 10, 2018
P-BRUINS WEEK IN REVIEW: 12/5/18 – 12/10/18
With nearly a third of the AHL season gone by, the Atlantic Division remains a tight race. The Providence Bruins are still sixth in the division, but are inching closer to one of the top four spots. While their record of 11-10-4 for 26 points won't turn many heads, the team recently had an eight-game point streak despite injuries and call-ups depleting the roster. Factor in that 15 of their 25 games played so far have come away from the Dunkin Donuts Center (by the end of December it will be 22 of 34 on the road) and they have done well to weather the storm of a tough first-half schedule.
Weekend Recap
The P-Bruins started their week of play Wednesday in Toronto as they faced the defending Calder Cups Champions to begin a four-game road trip. In what turned out to be one of the most convincing wins of the season, Providence dominated the Marlies 5-0 to record their first shutout of the year. Zach Senyshyn posted his second two-goal game of the season and Anders Bjork posted his first multipoint game. Dan Vladar stopped a career-high 35 shots between the pipes and 11 different P-Bruins cracked the scoresheet. The win also extended the team's point streak to a season-long eight games, but the streak was snapped Friday night in Rochester. Two first period goals from Justin Bailey proved to be enough as the Amerks beat the P-Bruins 2-1. Facing off against the Belleville Senators for the first time this season on Saturday, Providence ran into a hot goaltender in Filip Gustavsson and fell 3-2. Providence fired 37 shots on him and out-shot the Senators by 15, but the Belleville goalie made several terrific stops to sink the Bruins.
Senyshyn surging
With four goals in his last three games, Senyshyn is now leading all P-Bruins players with nine tallies on the season. Senyshyn, who had 12 goals all last season, was the only Providence player to score in all three games this week and did so each time on the power play. All four of his goals came from in close near the crease and so far this season has made a living in the blue paint. His combination of speed, size and hands all came together, showing why Boston made him a first-round pick in 2015. He now leads the team in power play goals after not seeing much action on the man-advantage last season and has rewarded the coaching staff for having faith in his game.
Fitzgerald on fire
Ryan Fitzgerald continues to be scorching hot for the P-Bruins and is a big reason why they have turned their season around. Over the last 15 games, Fitzgerald has six goals and 11 assists for 17 points and currently leads all Bruins in points (21) and assists (14). He showed last season that he can be a 20+ goal scorer, but now he has added playmaking ability for his teammates into that equation. Fitzgerald posted 16 assists all last year, but already has 14 this season and is on pace for a 64-point season. He also has four goals on the power play and 11 power play points overall to lead the club, as he is following up his P-Bruins rookie of the year season up with what will be another productive campaign.
Goaltending turns a corner
After a shaky start in net, both of Providence's goaltenders have turned it on recently and have played their best hockey of the season. The rookie Vladar has been solid all season long, but he has taken his play to another level. In addition to his shutout on Wednesday, Vladar has wins in five of his last eight starts. Over the past four games, he is 3-1 with a GAA of 1.74 and a save percentage of 93.6%. For the season, he now ranks seventh among all AHL goaltenders in GAA and is 13th in save percentage. McIntyre got off to a slow start, but he has really turned things around over his last four games. He has a 1.98 GAA and save percentage of 94%, easily his lowest of any four-game stretch this season. Over that time, he was 2-1-1, but his overtime loss saw him stop a season-high 44 shots.
Roster Notes
Connor Clifton made his NHL debut with the Boston Bruins, skating in nine games with the big club, but is now back with the P-Bruins. He was reassigned to Providence December 6 and scored his first goal of the season Sunday in Belleville. The P-Bruins also received Tanner Pond back from the ECHL after they sent him to the Atlanta Gladiators last week. He dominated in his three games with Atlanta, posting two goals and six points.
To make room on the roster for these additions, the P-Bruins released David Broll and Desmond Bergin from their PTOs. Broll had tough injury luck with Providence, skating in just one game due to a broken hand. Bergin skated in six scoreless games on the P-Bruins blue line and will now return to the ECHL with the Adirondack Thunder. Providence will also be without Martin Bakos for the remainder of the season, as Boston waived him December 10 so he could pursue other opportunities.
Week Ahead
The P-Bruins wrap up their four-game road trip Wednesday in Utica when they take on the Comets for the first time this season at 7pm. The team returns home for a pair of divisional games over the weekend, starting Friday at 7:05pm against the Bridgeport Sound Tigers. The team ends the weekend Saturday night at 7:05pm against Hershey, welcoming in the Bears and former assistant coach Spencer Carbery for the first time this year.
- - - - -
The Providence Bruins are the American Hockey League affiliate of the NHL's Boston Bruins, playing their home games at the Dunkin' Donuts Center in Providence, RI. Spanning more than 25 years, the Boston/Providence affiliation is one of the longest and most successful player development partnerships in professional hockey history.
For all the latest Providence Bruins news and updates visit ProvidenceBruins.com or follow the team on Facebook at facebook.com/providencebruins or Twitter at twitter.com/AHLBruins.
- - - - -
#12/10/2018#