Providence Bruins
P-BRUINS WEEK IN REVIEW: 10/18/18 – 10/24/18

Oct 24, 2018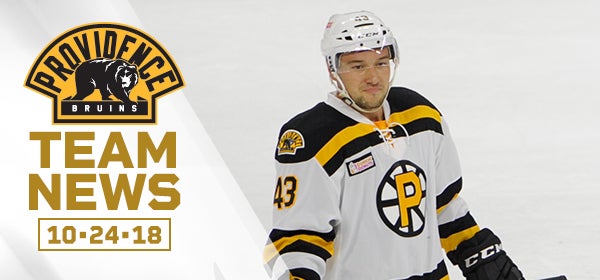 P-BRUINS WEEK IN REVIEW: 10/18/18 – 10/24/18
Oct 24, 2018
P-BRUINS WEEK IN REVIEW: 10/18/18 – 10/24/18
Providence, RI – After a rough start to the 2018-19 campaign, the Providence Bruins got back on track this weekend by taking three of a possible four points in the standings. The team still sits at a modest 2-4-1-0 with five points on the year, but there is obviously plenty of time to jump from seventh place back up into the top four of the Atlantic Division.
Weekend Recap
Facing off against the Bridgeport Sound Tigers in a home-and-home series, the P-Bruins opened their weekend Friday at Webster Bank Arena looking stop a two-game losing streak. Despite giving up the game's first tally, Colby Cave and Jakub Zboril each netted goals to give Providence a 2-1 lead after two periods. The Sound Tigers tied it early in the third, but Cave's second goal of the game with 2:11 left on the clock helped the P-Bruins regain the lead. However, a 6-on-5 goal with 41 seconds left and a strike 32 seconds into overtime led Bridgeport to a 4-3 victory. The action moved to the Dunk on Saturday where the P-Bruins rode a hot start to their second win of the season. Cameron Hughes and Cave each scored in the opening 3:13, and the team never looked back. Trent Frederic scored a pair of goals and Jan Kovar netted his first North American point as Providence went on to a 5-2 victory.
Hot Start for Cave
Cave is easily off to the best start of his four-year AHL career as he leads the team with five goals and seven points. He scored three goals over the weekend and has lit the lamp in four consecutive games for the first time as a pro. Known as a grinder who gets his scoring from hanging out near the net, he has scored in a variety of different ways so far. Of his five goals, two have come off rebounds in the crease, two have come via wrist-shots with space to shoot, and one came off a deflection as he rotated by the goaltender. All his goals have come 5-on-5 so it may be tough to keep up this pace, but he is on track to surpass his career high of 13 goals and 35 points set in 2016-17.
First Things First
Several P-Bruins had career-firsts this weekend, starting with Hughes who netted his first AHL goal Saturday to open the scoring. Skating mostly as a left wing on the third line, Hughes has played well to start his rookie season and posted points in each of the P-Bruins' two weekend tilts. Frederic registered two goals Saturday, marking the first time in his young career that he potted a pair of goals in one game. Jeremy Lauzon had a pair of primary assists on Saturday, marking his first career multipoint game. The young blueliner is off to a tremendous offensive start as after a goal and seven points in 52 games as a rookie, he already has a goal and four points through six games in his sophomore campaign. Joel Messner made his AHL debut at the Dunk Saturday after starting the season in Atlanta, picking up his first career point with an assist on Frederic's first goal.
Roster Notes
Jan Kovar agreed to a PTO with Providence October 18 after being waived by the Islanders organization prior to the start of the season. A prolific playmaking center in the KHL, Kovar slotted into the team's second line with Peter Cehlarik and Martin Bakos Saturday and will look to show the Boston organization he is worth a look for any vacant center roles that come up at the NHL level. He is no stranger to the big stage, as he represented the Czech Republic at the 2018 Olympic Games scoring three goals and two assists in six games. In his first game as a Bruin, he scored his first North American goal by backhanding in his own rebound on a breakaway.
With injuries to Kevan Miller and Charlie McAvoy, Boston needed help on defense and as such recalled Urho Vaakanainen on an emergency basis. Vaakanainen posted two assists in six AHL games prior to his recall and played a responsible, steady game for a 19-year old rookie. He has earned the trust of the coaching staff and played in all situations, so he will be prepared for whatever the NHL team needs him to do. Replacing him on the Providence roster was Messner, who immediately slotted in as a bottom pairing defender after being recalled from the ECHL.
What's Ahead
The P-Bruins travel to Springfield Saturday for a 7:05pm face-off with the Thunderbirds and will look to avenge their worst loss of the early season. They then return home Sunday at 3:05pm against Bridgeport for the ninth annual "Pink in the Rink" night in support of the Gloria Gemma Breast Cancer Resource Foundation.
- - - - -
The Providence Bruins are the American Hockey League affiliate of the NHL's Boston Bruins, playing their home games at the Dunkin' Donuts Center in Providence, RI. Spanning more than 25 years, the Boston/Providence affiliation is one of the longest and most successful player development partnerships in professional hockey history.
For all the latest Providence Bruins news and updates visit ProvidenceBruins.com or follow the team on Facebook at facebook.com/providencebruins or Twitter at twitter.com/AHLBruins.
- - - - -
#10/24/2018#