Providence Bruins
P-BRUINS SEASON REVIEW: TOP LINE LEADS THE WAY

Jun 21, 2018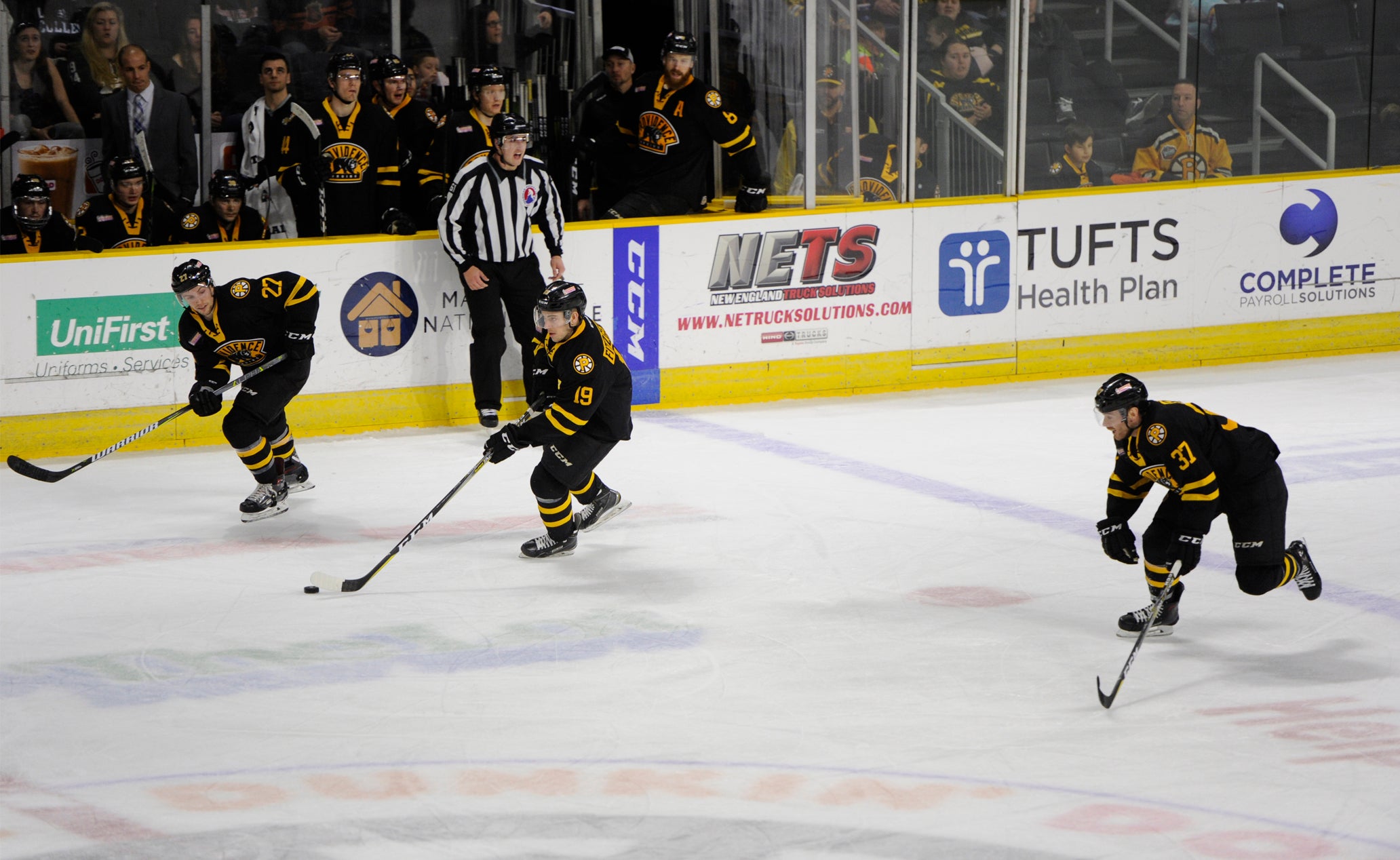 P-BRUINS SEASON REVIEW: TOP LINE LEADS THE WAY
Jun 21, 2018
P-BRUINS SEASON REVIEW: TOP LINE LEADS THE WAY
Line combinations in the AHL are always fluctuating as players are promoted and the roster is shaken up, so finding consistency with a team's top lines is a challenge. That is true of the P-Bruins, who had plenty of good players but ones who were always on the move between Boston and Providence. The team still had success without a firm top line, but towards the end of January one began to emerge when three natural centers joined forces.
Austin Czarnik, Jordan Szwarz and Ryan Fitzgerald teamed up to form one of the most lethal trios in the AHL with their combination of speed, awareness and skill. Fitzgerald, who had moved around from each of the three forward spots throughout the season, took over at left wing. Szwarz stayed at center while Czarnik manned the right side, a combination that had been together most of the season.
The move to right wing for Czarnik saw his production sky rocket in 2017-18 as he posted career highs in all scoring categories. The 25-year old was third in the AHL in scoring with 69 points and he led Providence in goals, assists, points, power play goals and multipoint games. Czarnik represented the team at the 2018 AHL All-Star Classic in Utica, New York January 28-29, registering two goals and an assist during the All-Star Challenge.
Consistency was also big for Czarnik, who never went more than three games without recording a point. He used his speed and vision to create looks on offense and, despite his size, was not afraid of anyone physically. While some scouts say that his size may hamper his NHL potential, he certainly showed no signs that it would be an issue against bigger opponents. Other coaches and players noticed him when he was on the ice, and he was rewarded by them for his great season. Czarnik was named to the 2017-18 AHL Second All-Star Team, an honor voted on by coaches, players and media in the 30 AHL member cities.
His breakout campaign was surely helped by his talented teammates, specifically Szwarz and Fitzgerald. Their chemistry was evident on every shift and they brought out the best in each other. "I honestly think that we've been feeding off of it," Czarnik said of his line mates. "I think that we are really successful when moving the puck around." Though the season did not end how the team would have liked in the playoffs, Czarnik had a productive four games against Lehigh Valley. He posted two goals and six points, scoring in every game while posting a plus-four rating.
Szwarz is an AHL veteran with 2017-18 being his eighth pro season, but his time in Providence has been by far his most successful. He set career highs in scoring last year in his first year with the P-Bruins, and the only reason he didn't eclipse those numbers this season was because he had multiple NHL call-ups. He still finished the year third on the team in scoring with 48 points and second in goals with 21. The organization rewarded his production late in the season, signing him to an extension that guarantees he will be here in 2018-19.
Like Czarnik, Szwarz was a consistent performer throughout the season and at times carried the team's offense. In October, Szwarz led the team in goals before doing the same again in January. He also scored the biggest goal of the season for the team in Game Two of their series with Lehigh Valley. With the Phantoms scoring two unanswered goals in the second period to tie the game and take the momentum into the third period, Szwarz scored a shorthanded goal just 19 seconds into the final frame to give Providence a lead they would not relinquish.
The last addition to this line was Fitzgerald, who was already having a great season before being added to it. Once he teamed up with Czarnik and Szwarz he took his game to another level. He finished the season with 21 goals and 37 assists, adding a two-goal game in the team's first playoff matchup against Lehigh Valley. For more on his 2017-18 season, review Fitzgerald's P-Bruins Rookie of the Year season in his rookie report.
Fitzgerald and Szwarz are under contract for the 2018-19 season, but Czarnik is an unrestricted free agent and will test the open market in search of a full-time NHL job. What the future holds for these three is anyone's guess, but the trio has each shown that they are capable of heading to the NHL in some capacity next season.
- - - - -
The Providence Bruins are the American Hockey League affiliate of the NHL's Boston Bruins, playing their home games at the Dunkin' Donuts Center in Providence, RI. Spanning more than 25 years, the Boston/Providence affiliation is one of the longest and most successful player development partnerships in professional hockey history.
For all the latest Providence Bruins news and updates visit ProvidenceBruins.com or follow the team on Facebook at facebook.com/providencebruins or Twitter at twitter.com/AHLBruins.
- - - - -
#6/21/2018#