Providence Bruins
P-BRUINS ROUND 1 PLAYOFF SCHEDULE

Apr 20, 2015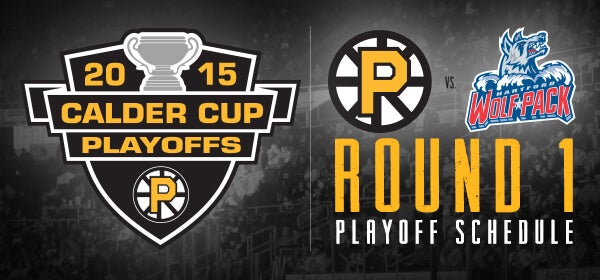 P-BRUINS ROUND 1 PLAYOFF SCHEDULE
Apr 20, 2015
P-BRUINS ROUND 1 PLAYOFF SCHEDULE
PROVIDENCE, R.I.- The Providence Bruins finished their regular season with a record of 41-26-7-2 and a total of 91 points, and enter the 2015 Calder Cup Playoffs as the 6th seed. The Providence Bruins will face off against the Hartford Wolfpack in the first round with the series opening at the XL Center on Wednesday at 7:00PM. Game 2, also in Hartford, will take place on Saturday, April 25th at 7:00PM. The P-Bruins will return to the Dunkin' Donuts Center for Game 3 on Sunday, April 26th at 7:05PM. Game 4, if necessary, is scheduled for Tuesday, April 28th at 7:05PM at the Dunk, followed by Game 5 on Friday, May 1st at 7:00PM in Hartford.
Tickets for Round 1-Game 3 on Sunday, April 26 at 7:05PM are on sale now by clicking here.
See the rest of the 5-game series schedule below:
Game 1: Wednesday, April 22nd in Hartford at 7:00PM
Game 2: Saturday, April 25th in Hartford at 7:00PM
Game 3: Sunday, April 26th in Providence at 7:05PM
Game 4: Tuesday, April 28th in Providence at 7:05PM
Game 5: Friday, May 1st in Hartford at 7:00PM
-----
The Providence Bruins are an American Hockey League franchise and the top affiliate of the NHL's Boston Bruins. Since moving to Providence in 1992 the P-Bruins have been among the league leaders in regular season attendance. On the ice the team has enjoyed similar success, having won five division titles, three regular season titles and the Calder Cup in 1999.
For all the latest Providence Bruins news and updates visit ProvidenceBruins.com or follow the team on Facebook at facebook.com/providencebruins or Twitter at twitter.com/AHLBruins.