Providence Bruins
P-BRUINS HONOR PRO HOCKEY IN PROVIDENCE WITH COMMEMORATIVE REDS JERSEYS

Mar 5, 2017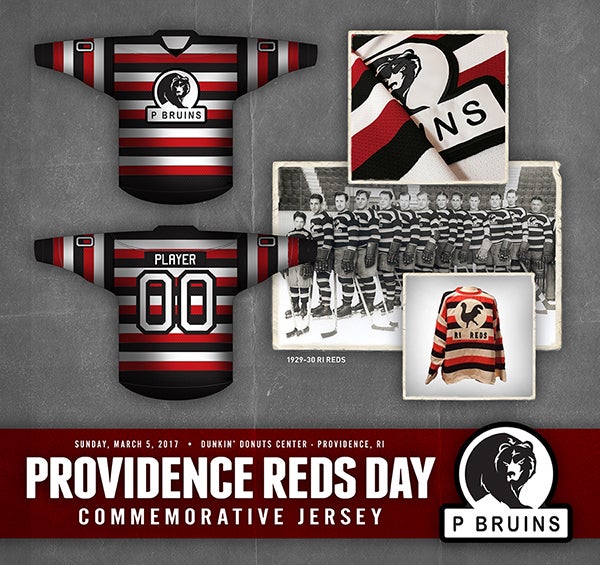 P-BRUINS HONOR PRO HOCKEY IN PROVIDENCE WITH COMMEMORATIVE REDS JERSEYS
Mar 5, 2017
P-BRUINS HONOR PRO HOCKEY IN PROVIDENCE WITH COMMEMORATIVE REDS JERSEYS
Providence, RI - In honor of the 90th anniversary of the Providence Reds inaugural season in 1926, the Providence Bruins are wearing commemorative jerseys for today's game. These jerseys are meant to honor the history of professional hockey in Providence as the Bruins look forward to celebrating the organization's 25th season during Fan Appreciation Month in April.
The jerseys worn by the players today are inspired by those worn by the 1929-30 RI Reds, featuring a red, black and white striped pattern. The crest also references the team's logo from that season, with the bear in place of the silhouette of the rooster, and team nickname of 'P Bruins' replacing 'RI Reds'.
These jerseys will be available to fans through online auction at P-Bruins Authentics, the team's official eBay auction page, beginning Monday at 10am.
For $5 off tickets to today's game, click here.
- - - - -
The Providence Bruins are the American Hockey League affiliate of the NHL's Boston Bruins, playing their home games at the Dunkin' Donuts Center in Providence, RI. Spanning more than 20 years, the Boston/Providence affiliation is one of the longest and most successful player development partnerships in professional hockey history.
For all the latest Providence Bruins news and updates visit ProvidenceBruins.com or follow the team on Facebook at facebook.com/providencebruins or Twitter at twitter.com/AHLBruins.
- - - - -
#3/5/2017#