Providence Bruins
P-BRUINS GET A POINT, BUT FALL IN OT 2-1 TO PENGUINS

Mar 16, 2019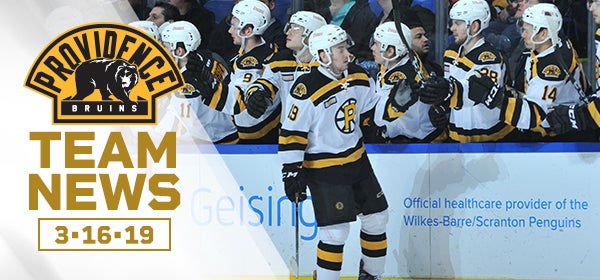 P-BRUINS GET A POINT, BUT FALL IN OT 2-1 TO PENGUINS
Mar 16, 2019
P-BRUINS GET A POINT, BUT FALL IN OT 2-1 TO PENGUINS
Wilkes-Barre, PA – The Providence Bruins fell to the Wilkes-Barre Scranton Penguins in overtime Saturday night 2-1 in the second game of their three-game road trip. The P-Bruins got their lone goal from Ryan Fitzgerald while Zane McIntyre made his 38th start of the season in net.
Providence played well in the first period, and the line of Anton Blidh-Jakob Forsbacka Karlsson-Lee Stempniak had several good chances. Their closest look came from Forsbacka Karlsson, who had a shot go off both posts but stayed out of the net. The P-Bruins out-shot the Penguins 9-5 in the period, but entered the intermission in a scoreless tie.
Wilkes-Barre Scranton flipped the script in the second period, getting the majority of the chances and zone time. The Penguins out-shot Providence 14-5 in the period and capitalized on a turnover to crack the scoreboard first at 16:25. Jimmy Hayes stole the puck in the neutral zone and started a 2-on-1 break with Jake Lucchin. Hayes put a shot on McIntyre that was initially stopped, but Lucchin buried the rebound for his first career goal to give Wilkes-Barre Scranton a 1-0 lead after two.
Midway through the final period, Fitzgerald tied the game with his eighth goal of the season. Karson Kuhlman fired a shot on Tristan Jarry that was stopped, but the rebound went right to Jordan Szwarz. He poked the puck through the crease to Fitzgerald, who hit the open net at 10:08 to tie the score 1-1. Providence played well for the rest of the third, outshooting Wilkes-Barre Scranton 21-7 in the period, but overtime would be needed to determine a winner. Just 1:09 into the extra frame, the Penguins converted a long pass into the game-winner. Ethan Prow sent a feed from his own zone to Adam Johnson who got behind the P-Bruins defense. He backhanded a shot over the the glove of McIntyre for his 18th goal of the year, giving his club a 2-1 overtime win.
McIntyre stopped 26-28 shots while Jarry stopped 36-37 shots. Providence was 0-3 on the power play and 1-1 on the penalty kill. The P-Bruins conclude their roadtrip Wednesday when they make their only visit of the year to Laval for a 7:30pm face off with the Rocket.
- - - - -
The Providence Bruins are the American Hockey League affiliate of the NHL's Boston Bruins, playing their home games at the Dunkin' Donuts Center in Providence, RI. Spanning more than 25 years, the Boston/Providence affiliation is one of the longest and most successful player development partnerships in professional hockey history.
For all the latest Providence Bruins news and updates visit ProvidenceBruins.com or follow the team on Facebook at facebook.com/providencebruins or Twitter at twitter.com/AHLBruins.
- - - - -
#3/16/2019#