Providence Bruins
P-BRUINS FALLS 2-1 IN OT SHOOTOUT TO PENGUINS

Mar 1, 2019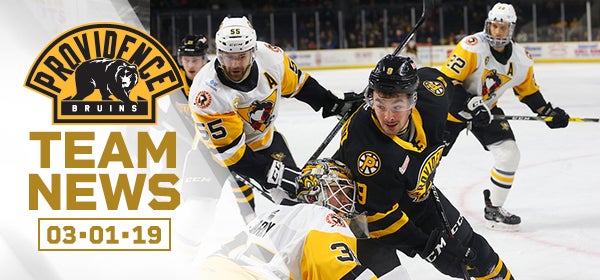 P-BRUINS FALLS 2-1 IN OT SHOOTOUT TO PENGUINS
Mar 1, 2019
P-BRUINS FALLS 2-1 IN OT SHOOTOUT TO PENGUINS
Providence, RI – The Providence Bruins fell 2-1 in overtime shootout to the Wilkes-Barre/Scranton Penguins Friday night in the first game of their three-in-three weekend. The P-Bruins got their loan goal from Chris Breen while Zane McIntyre made his 34th start of the season in net.
Providence started off the first period showing off their strong defensive and offensive skill against Wilkes Barre/Scranton.The P-Bruins first shot didn't come until 5 minutes in and it took the Penguins 7 minutes to record their first. Wilkes Barre/Scranton struggled to keep up with the Providence's fast aggressive pace being outshot 11 to 7. However both teams managed to keep the period scoreless into the first intermission.
At the start of the second period the P-Bruins continued to hold their own, fighting off any attempts the Penguins made towards shots on their goal. McIntyre held strong and made some incredible saves, stopping all 10 shots he faced in the period. The P-Bruins outshot the Penguins 21-17 but the game continued to be scoreless into the third.
Only 44 seconds into the third period, the Penguin's Ethan Prow netted their first goal and his 16th of the season. The helpers on the play were Chris Wideman and Sam Lafferty. The P-Bruins kept their edge and Chris Breen lit the lamp with his second goal of the season at 5:46, assisted by Lee Stempniak and Jakub Zboril tying the game 1-1 at the end of regulation. After a scoreless overtime, Providence fell 2-1 in the shootout.
McIntyre stopped 39 shots while Jarry stopped 34 shots. Providence was 0/5 on the power play and 5-5 on the penalty kill. The P-Bruins are back in action tomorrow night at 7:05pm when they travel to Springfield for the start of a home-and-home series with the Thunderbirds.
The Providence Bruins are the American Hockey League affiliate of the NHL's Boston Bruins, playing their home games at the Dunkin' Donuts Center in Providence, RI. Spanning more than 25 years, the Boston/Providence affiliation is one of the longest and most successful player development partnerships in professional hockey history.
For all the latest Providence Bruins news and updates visit ProvidenceBruins.com or follow the team on Facebook at facebook.com/providencebruins or Twitter at twitter.com/AHLBruins.
- - - - -
#3/1/2019#