Providence Bruins
P-BRUINS FALL TO PENGUINS IN 2-0 SHUTOUT

Mar 27, 2019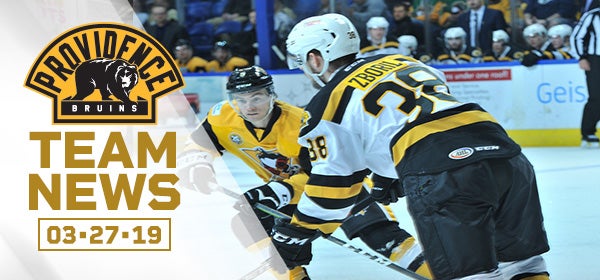 P-BRUINS FALL TO PENGUINS IN 2-0 SHUTOUT
Mar 27, 2019
P-BRUINS FALL TO PENGUINS IN 2-0 SHUTOUT
Wilkes-Barre, PA – The Providence Bruins fell 2-0 to the Wilkes-Barre/Scranton Penguins Wednesday night in the first game of their three-game road trip. The P-Bruins were shutout for the second time this season while Zane McIntyre made his 41st start of the season in net.
Jake Lucchini put the Wilkes-Barre Penguins on the board after netting the first goal of the game and his second of the season at 7:17. Jarrett Burton and Jimmy Hayes earned helpers on the play. Providence, determined to make a comeback continued with fast pace and strong defense, but still trailed by one into the first intermission.
The P-Bruins started off the second period determined to even the score, but struggled to get a shot past Tristan Jarry. Each team was given two power play opportunities, but the defense killed them off. Providence maintained their back and forth strength throughout the remainder of the period and outshot the Penguins 16-12, but the Penguins held their 1-0 lead into the second intermission.
The Penguins took the third period by storm when Sam Miletic tallied their second goal of the game and his tenth of the season at 6:21. Ryan Haggerty and Sam Lafferty picked up assists on the play that gave Wilkes-Barre/Scranton a 2-0 lead. The P-Bruins continued to fight throughout the final minutes of regulation but the Penguins came out on top. Jarry recorded his first shutout of the season ,and Providence fell 2-0.
McIntyre stopped 20 shots while Jarry stopped 23. Providence was 0/2 on the power play and 3-3 on the penalty kill. The P-Bruins continue their three-game road trip in Syracuse on March 27th for their matchup against the Crunch at 7:05 pm.

- - - - -
The Providence Bruins are the American Hockey League affiliate of the NHL's Boston Bruins, playing their home games at the Dunkin' Donuts Center in Providence, RI. Spanning more than 25 years, the Boston/Providence affiliation is one of the longest and most successful player development partnerships in professional hockey history.
For all the latest Providence Bruins news and updates visit ProvidenceBruins.com or follow the team on Facebook at facebook.com/providencebruins or Twitter at twitter.com/AHLBruins.
- - - - -
#3/27/2019#