Providence Bruins
P-BRUINS FALL 5-1 TO T-BIRDS

Feb 17, 2019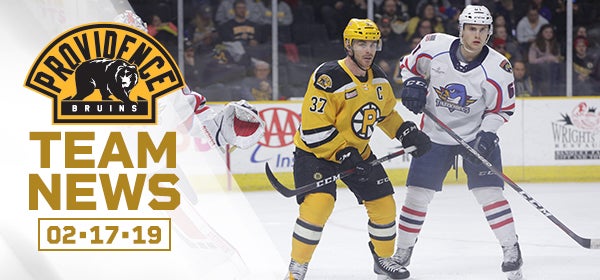 P-BRUINS FALL 5-1 TO T-BIRDS
Feb 17, 2019
P-BRUINS FALL 5-1 TO T-BIRDS
Providence, RI – The Providence Bruins fell to the Springfield Thunderbirds 5-1 Sunday afternoon as Zane McIntyre's 12-game winning streak came to an end. The P-Bruins got their lone goal from Jordan Szwarz while Zane McIntyre made his 32nd start of the season in net.
The Providence Bruins started off the 1st period moving fast defensively but Springfield showed their competitive edge and managed to light the lamp first. Anthony Greco potted the first goal at 5:26 with a helper from Ryan Horvat, giving Springfield at 1-0 lead. The P-Bruins struggled to keep up as Chris Wideman tallied the T-Birds second goal of the game and his first of the season, unassisted at 15:22 putting the Thunderbirds ahead 2-0 into the 1st intermission.
The P-Bruins tried to make a comeback in the beginning of the second, moving fast and keeping the puck in their possession. However, the T-Birds stayed vigilant and Harry Zolnierczyk netted their third goal of the game at 13:58 during a power play. Assisted by Tomas Jurco and Chris Wideman, this moved the Springfield lead to 3-0 into the 2nd intermission.
Providence took on the third period by storm when Jordan Szwarz potted a goal only 49 seconds in, with an assist from Urho Vaakanainen. Tensions were high as the game continued, leading Springfield to score two more goals. The first goal came from Chris Wideman at 13:28, his second of the game. The helpers on the play were Zolnierczyk and Jurco. Only minutes after that Jacob MacDonald netted the 5th goal for the T-Birds, assisted by Dryden Hunt and Matt Mangene at 14:38. The Providence Bruins could not come back and fell to the Thunderbirds 5-1.
McIntyre stopped 21 shots while Driedger stopped 26 shots. Providence was 0/5 on the power play and 3-6 on the penalty kill. The P-Bruins are back at the Dunk on Friday night February 22nd when they take on the The Bridgeport Sound Tigers at 7:05pm.
- - - - -
The Providence Bruins are the American Hockey League affiliate of the NHL's Boston Bruins, playing their home games at the Dunkin' Donuts Center in Providence, RI. Spanning more than 25 years, the Boston/Providence affiliation is one of the longest and most successful player development partnerships in professional hockey history.
For all the latest Providence Bruins news and updates visit ProvidenceBruins.com or follow the team on Facebook at facebook.com/providencebruins or Twitter at twitter.com/AHLBruins.
- - - - -
#2/17/2019#