Providence Bruins
P-BRUINS DEFEAT THE T-BIRDS 5-2

Mar 3, 2019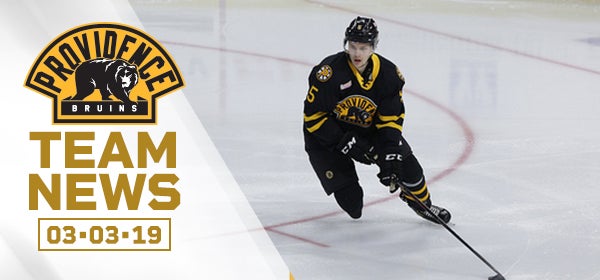 P-BRUINS DEFEAT THE T-BIRDS 5-2
Mar 3, 2019
P-BRUINS DEFEAT THE T-BIRDS 5-2
Providence, RI – The Providence Bruins defeated the Springfield Thunderbirds 5-2 Sunday afternoon in the second half of their home-and-home series. The P-Bruins got two goals from Paul Carey and Urho Vaakanainen along with a goal from Connor Clifton while Zane McIntyre made his 35th start of the season in net.
The Providence Bruins took the 1st period by storm, ready to come back from their lose. Paul Carey lit the lamp for the P-Bruins at 15:09, helpers on the play were Jakob Forsbacka Karlsson and Urho Vaakanainen. The T-Birds quickly responded a minute later when Jean-Sebastien Dea netted a powerplay goal, assisted by Paul Thompson and Anthony Greco to tie the game 1-1 into the first intermission.
Only five minutes into the second period Urho Vaakanainen tallied his first career goal, assisted by Gemel Smith and Connor Clifton as Providence took a 2-1 lead over the T-Birds. The Thunderbirds struggled to regain momentum as Carey with a wrister potted his second goal of the game and 16th of the season at 10:01. Jordan Szwarz got the helper on the play giving the P-Bruins a 3-1 lead into the third period.
The Thunderbirds started off the third period with an attempt at a comeback when Anthony Greco scored on a power play goal at 9:15, with helpers Dea and Harry Zolnierczyk. Providence continued to maintain their one goal advantage with strong defensive skill. Urho Vaakanainen and Connor Clifton netted empty net goals with the clock running down to seal a 5-2 P-Bruins win.
McIntyre stopped 27 shots while Dredger stopped 27 shots. Providence was 0/1 on the power play and 1-1 on the penalty kill. The Providence Bruins will be back at the Dunkin' Donuts Center Friday March 8th when they verse the Hershey Bears at 7:05 pm as part of their three home game stretch.
- - - - -
The Providence Bruins are the American Hockey League affiliate of the NHL's Boston Bruins, playing their home games at the Dunkin' Donuts Center in Providence, RI. Spanning more than 25 years, the Boston/Providence affiliation is one of the longest and most successful player development partnerships in professional hockey history.
For all the latest Providence Bruins news and updates visit ProvidenceBruins.com or follow the team on Facebook at facebook.com/providencebruins or Twitter at twitter.com/AHLBruins.
- - - - -
#3/3/2019#