Providence Bruins
P-BRUINS DEFEAT CRUNCH IN 4-0 IN McINTYRE'S FIRST SHUTOUT OF THE SEASON

Feb 10, 2019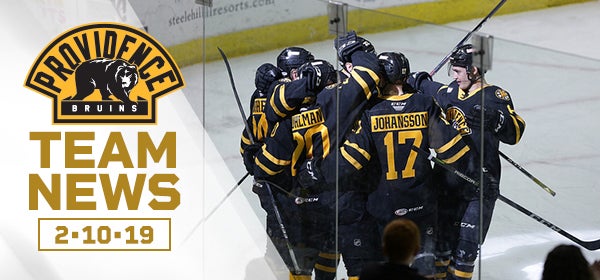 P-BRUINS DEFEAT CRUNCH IN 4-0 IN McINTYRE'S FIRST SHUTOUT OF THE SEASON
Feb 10, 2019
P-BRUINS DEFEAT CRUNCH IN 4-0 IN McINTYRE'S FIRST SHUTOUT OF THE SEASON
Providence, RI – The Providence Bruins defeated the Syracuse Crunch 4-0 Sunday night in their first meeting of the season. The P-Bruins got goals from Cameron Hughes, Karson Kuhlman and Ryan Donato while Zane McIntyre made his 30th start of the season in net.
The Providence Bruins came out of the gates firing as Cameron Hughes lit the lamp for the P-Bruins only a minute into the game. From behind the net, he banked it in off of Connor Ingram for his 13th goal of the season and Providence took a 1-0 lead. Syracuse struggled to solve McIntyre and had a tough time getting good looks. Karson Kuhlman ended the first period strong for Providence, netting the second goal of the game. With helpers from Connor Clifton and Jordan Szwarz, he snapped home his 11th goal of the season, finishing out the 1st with a 2-0 lead.
The second period started off slow but with 25 seconds left Providence extended their lead 3-0 on a short handed rush. Zach Senyshyn stole the puck and entered the zone up the right side with Kuhlman. Senyshyn sent a pass to a wide open Kuhlman who one-timed his second goal of the night. It was his team leading third short-handed goal of the season and the P-Bruins ended the second with a 3-0 lead.

The final period ended with Ryan Donato tallying a goal at 11:26, with helpers from Gemel Smith and Mark McNeill. Donato's seventh goal of the season sealed the 4-0 Providence victory and McIntyre's 11th straight win. With his first shutout of the season, he is now one shutout from tying Tim Thomas and Hannu Toivonen's team record of 11 shutouts.
McIntyre stopped 27 shots while Ingram stopped 26 shots. Providence was 0/4 on the power play and 5-5 on the penalty kill. The P-Bruins are back at the Dunk on Friday February 15th when they take on the Toronto Marlies at 7:05pm.
- - - - -
The Providence Bruins are the American Hockey League affiliate of the NHL's Boston Bruins, playing their home games at the Dunkin' Donuts Center in Providence, RI. Spanning more than 25 years, the Boston/Providence affiliation is one of the longest and most successful player development partnerships in professional hockey history.
For all the latest Providence Bruins news and updates visit ProvidenceBruins.com or follow the team on Facebook at facebook.com/providencebruins or Twitter at twitter.com/AHLBruins.
- - - - -
#2/10/2019#