Providence Bruins
P-BRUINS DEFEAT BEARS 4-3 IN OT

Mar 9, 2019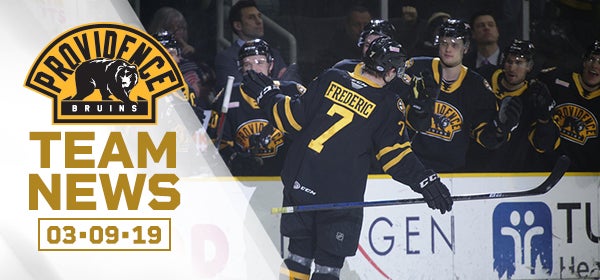 P-BRUINS DEFEAT BEARS 4-3 IN OT
Mar 9, 2019
P-BRUINS DEFEAT BEARS 4-3 IN OT
Providence, RI – The Providence Bruins defeated the Hershey Bears 4-3 in overtime on Saturday night in their second game of three-game weekend at home. The P-Bruins got two goals from Paul Carey along with goals from Trent Frederic and Urho Vaakanainen while Dan Vladar made his 25th start of the season in net.
The Providence Bruins opened the first period ready to win when Trent Frederic lit the lamp with his 11th goal of the season at 9:51, assisted by Gemel Smith and Ryan Fitzgerald. He fired a snapshot on Ilya Samsonov, which deflected straight up and bounced behind the goaltender for the tally. The P-Bruins stayed strong in both their defensive and offensive zones, making it nearly impossible for Hershey to get the puck past Vladar. Providence allowed just four shots and took a 1-0 lead into the first intermission.
Hershey made a comeback just a minute into the second period when Riley Barber netted their first goal of the night and his 28th of the season. Liam O'Brien and Jayson Megna earned helpers on the play, tying the game 1-1. The P-Bruins remained confident and continued their fast pace. Urho Vaakanainen netted his third of the season at 14:58, with helpers Fitzgerald and Zach Senyshyn, to give the P-Bruins a 2-1 lead. The Bears responded with a goal from Barber at 16:45, with assists from Aaron Ness and Garrett Pilon knotting the score up 2-2 into the the third period.
The Hershey Bears' Megna, determined to break the tie, tallied their third goal of the night, with helpers Devante Smith-Pelly and Nathan Walker at 9:05. Providence answered back when Paul Carey netted their third goal of the night, assisted by Karson Kuhlman and Connor Clifton at 12:53 tying the game 3-3 at the end of regulation. Carey netted the fourth and final goal twelve seconds into overtime. His second goal of the night. Clifton and Jordan Szwarz earned helpers on the play that gave Providence a 4-3 win and their second victory in two games against the Bears.
Vladar stopped 19 shots while Samsonov stopped 30 shots. Providence was 2/6 on the power play and 4-6 on the penalty kill. The Providence Bruins will be back at the Dunkin' Donuts Center tomorrow afternoon March 10th when they take on the Springfield Thunderbirds at 3:05 pm in the last game of the three home game stretch.
- - - - -
The Providence Bruins are the American Hockey League affiliate of the NHL's Boston Bruins, playing their home games at the Dunkin' Donuts Center in Providence, RI. Spanning more than 25 years, the Boston/Providence affiliation is one of the longest and most successful player development partnerships in professional hockey history.
For all the latest Providence Bruins news and updates visit ProvidenceBruins.com or follow the team on Facebook at facebook.com/providencebruins or Twitter at twitter.com/AHLBruins.
- - - - -
#3/9/2019#