Providence Bruins
P-BRUINS ANNOUNCE FIRST ROUND SCHEDULE

Apr 13, 2019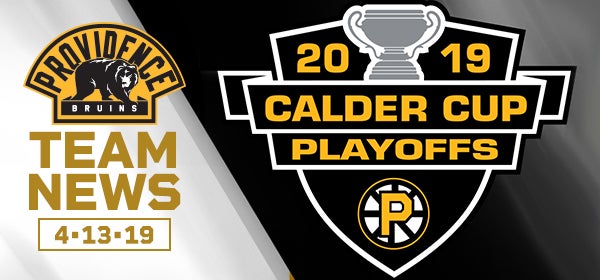 P-BRUINS ANNOUNCE FIRST ROUND SCHEDULE
Apr 13, 2019
P-BRUINS ANNOUNCE FIRST ROUND SCHEDULE
Providence, RI – The Providence Bruins, Charlotte Checkers and the American Hockey League have announced the schedule for their first-round match-up in the 2019 Calder Cup Playoffs. The P-Bruins, who are the lower seed, will begin this best-of-five series at the Dunkin Donuts Center with Game one on April 20 and Game two on April 21.
The full schedule of games is as follows:
Game 1 – Saturday, April 20, 7:05pm @ Providence
Game 2 – Sunday, April 21, 5:05pm @ Providence
Game 3 – Wednesday, April 24, 7pm @ Charlotte
Game 4* – Friday, April 26, 7pm @ Charlotte
Game 5* – Saturday, April 27, 6pm @ Charlotte
*if necessary
Tickets for Games one and two will go on sale Monday at noon at ProvidenceBruins.com.
- - - - -
The Providence Bruins are the American Hockey League affiliate of the NHL's Boston Bruins, playing their home games at the Dunkin' Donuts Center in Providence, RI. Spanning more than 25 years, the Boston/Providence affiliation is one of the longest and most successful player development partnerships in professional hockey history.
For all the latest Providence Bruins news and updates visit ProvidenceBruins.com or follow the team on Facebook at facebook.com/providencebruins or Twitter at twitter.com/AHLBruins.
- - - - -
#4/13/2019#