Providence Bruins
P-BRUINS ANNOUNCE 2018-19 HOME OPENER AND PRESEASON FANFEST

Jul 10, 2018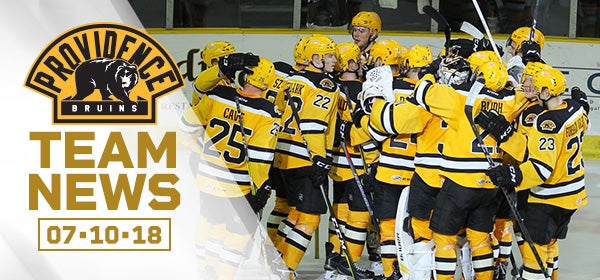 P-BRUINS ANNOUNCE 2018-19 HOME OPENER AND PRESEASON FANFEST
Jul 10, 2018
P-BRUINS ANNOUNCE 2018-19 HOME OPENER AND PRESEASON FANFEST
Providence, RI – The Providence Bruins have announced the team's 2018-19 regular season home opener, which will be played Saturday, October 6 at 7:05pm against the Laval Rocket at the Dunkin' Donuts Center. In the 26-year history of the franchise, Providence is 14-9-2-1 in their home opener. For the first time since the 2013-14 season, this will not serve as their regular season opener as the team begins the year October 5 on the road.
The team also announced the Preseason Game & Fanfest on Saturday, September 29 at 7:05pm against the Springfield Thunderbirds. Fans will be treated to the team's lone preseason home game as well as appearances by characters from the hit kid's movie "Trolls."
For more information on Opening Night in Providence on Saturday, October 6, or the Providence Bruins, please visit ProvidenceBruins.com.
- - - - -
The Providence Bruins are the American Hockey League affiliate of the NHL's Boston Bruins, playing their home games at the Dunkin' Donuts Center in Providence, RI. Spanning more than 25 years, the Boston/Providence affiliation is one of the longest and most successful player development partnerships in professional hockey history.
For all the latest Providence Bruins news and updates visit ProvidenceBruins.com or follow the team on Facebook at facebook.com/providencebruins or Twitter at twitter.com/AHLBruins.
- - - - -
#7/10/2018#