Providence Bruins
OFFSEASON ROSTER MOVES: P-BRUINS IN NEW PLACES

Aug 31, 2018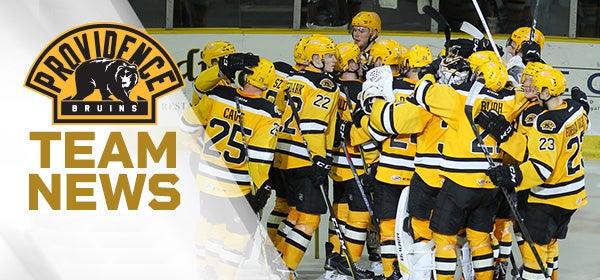 OFFSEASON ROSTER MOVES: P-BRUINS IN NEW PLACES
Aug 31, 2018
OFFSEASON ROSTER MOVES: P-BRUINS IN NEW PLACES
The new AHL season is less than 40 days away, and that means a new P-Bruins team will soon be assembled. With roster turnover rampant in minor league sports it can be challenging to track where players on last year's team ended up, so here is a look at which former P-Bruins will be in new uniforms this season.
The team's top line will need a new right wing as Austin Czarnik will be headed to the NHL full time next season. Czarnik, who spent parts of four seasons with Providence, signed a two-year, $2.5 million deal with the Calgary Flames as an unrestricted free agent and will look to prove himself as an NHL regular. The 25-year old got his professional start with Providence in 2015 as an undrafted free agent and put together his best season in 2017-18. A 2018 AHL All-Star, Czarnik scored 25 goals and 44 assists for 69 points (all career highs) and added four assists in 10 NHL games for Boston. He finished third overall in the AHL in scoring and now gets a shot at legitimate NHL playing time a loaded Boston team couldn't guarantee him in 2019.
Providence will also be without the services of 2016-17 AHL MVP Kenny Agostino, who signed a one-year, two-way deal with the Montreal Canadiens. Agostino finished second on the team in scoring with 53 points and was a mainstay at left wing on both the second line and the power play. If he fails to make it on the NHL roster, he will join the Laval Rocket who begin their season against the P-Bruins October 6 at the Dunk. Colton Hargrove, who moved from line to line throughout the season, also has a new AHL team as he signed with his hometown Texas Stars on an AHL deal. Hargrove set new career highs in scoring categories last season and finished sixth on the team with 33 points.
The fourth line will have a much different look as several players who served in that role have moved on. Adam Payerl, who posted 17 points during the season, is heading to Germany to play professionally as he signed a contract with the Augsburger Panther in the Deutsche Eishockey Liga. Justin Hickman is also heading overseas to play in Norway, agreeing to a deal with Lillehammer. Hickman had his 2017-18 season derailed by a knee injury but tied his career-high in scoring with eight points in 32 games. Veterans Josh Hennessy and Chris Porter have yet to sign contracts with any organization for the 2018-19 season. Each forward played 52 games with Providence last season with Hennessy scoring 17 points and Porter posting 10 points.
Defensively, much of the team's core will return for 2018-19 minus one huge piece of their puzzle. For the first time since 2011, Providence will open their season without Tommy Cross in the fold. The franchise's all-time games played leader signed a one-year, two-way deal with the Columbus Blue Jackets in hopes of a better NHL opportunity. Cross has been the P-Bruins captain for each of the past three seasons and was their best defenseman last season. He led the team's blueliners with eight goals and 36 points with a +30 rating. He also played a big role on the team's power play unit and replacing his combination of production and leadership will be one of the team's top challenges in 2018-19.
Paul Postma is moving on to the KHL, as he signed a contract with Ak Bars Kazan. Postma spent most of the 2017-18 season with Boston, but was sent to Providence near the end of the year to bolster their defense for the stretch run and chipped in nine points in just 13 games at the AHL level. Sena Acolatse also heads overseas to play in Germany as he signed a deal with the Straubing Tigers. Acolatse served as Providence's top enforcer last season, finishing the year with a team leading 90 PIM. Ben Marshall will leave the states for Slovakia as he joins HC Banska Bystrica. Marshall split last season between Providence and Atlanta, totaling 14 points in 32 total games between the AHL and ECHL. Rounding out the parting defensemen is Taylor Doherty who will play for Bili Tygri Liberec in the Czech league. He spent most of the season with Atlanta posting 19 points in 63 ECHL games, but did appear in a game for Providence March 7.
In net, Jordan Binnington will return to the St. Louis organization after he was loaned to Providence for the 2017-18 season. The Blues did not have an AHL affiliate last season, so they assigned the 25-year old goaltender to Providence where he put together an All-Star season. He went 17-9-1 with a 2.05 GAA, good for second in the AHL. His save percentage of 92.6% was good for fourth in the league, and he will now bring his talents to the San Antonio Rampage who enter their first season as the St. Louis affiliate. Matt Ginn, who served as a backup goalie at times during the season but never appeared in an AHL game, is also on the move as he signed in England with the Manchester Storm of the Elite Ice Hockey League.
Training Camp will get underway in September and Providence's young players will compete to earn to final roster spots in Boston. With so many young, versatile and talented prospects it remains to be seen which members of last year's team make the NHL jump and which will stay in the AHL for some more seasoning. The P-Bruins will open up their season October 5, so these questions will have an answer within the coming weeks.