Providence Bruins
McINTYRE TIES TEAM SHUTOUT RECORD IN 2-0 WIN

Mar 22, 2019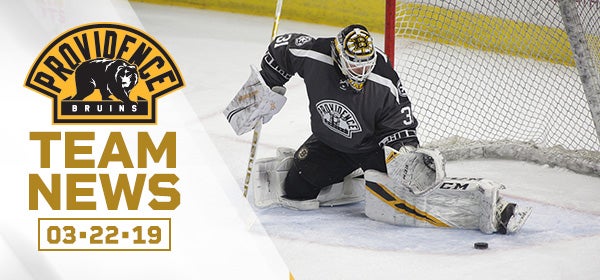 McINTYRE TIES TEAM SHUTOUT RECORD IN 2-0 WIN
Mar 22, 2019
McINTYRE TIES TEAM SHUTOUT RECORD IN 2-0 WIN
Providence, RI – The Providence Bruins shutout the Belleville Senators 2-0 Friday night in the first of their two-game home weekend. The P-Bruins got goals from Peter Cehlarik and Jordan Szwarz while Zane McIntyre made his 40th start of the season in net.
The Providence Bruins began the first period with fast pace and defensive skill. The Belleville Senators struggled to get the puck past the goal line, registering only six shots in the period. The P-Bruins stayed strong and finally broke through on the power play late in the period. Peter Cehlarik lit the lamp for Providence at 18:26, with helpers from Trent Frederic and Jakob Forsbacka Karlsson. The P-Bruins took a 1-0 lead into the first intermission.
The Senators attempted to make a comeback at the start of the second period, but were unsuccessful in their power play. Providence stayed steady with their pace and tight defense as tensions flared between the opposing teams. Belleville's Darren Archibald was ejected from the game after receiving a major and a game misconduct for cross-checking Trent Frederic at the end of the period. The P-Bruins kept their 1-0 lead into the second.
The P-Bruins determined more than ever to finish the third period with a win continued to play with extreme defense. Jordan Szwarz netted an unassisted goal at 19:06, a goal that made P-Bruins history. With his 20th goal of the season, he became the fifth player in team history with three 20+ goal seasons. McIntyre held on for the shutout win and tied another P-Bruins record. His 11th career shutout tied Tim Thomas and Hannu Toivonen's franchise record as Providence won 2-0.
McIntyre stopped 14 shots while Hogberg stopped 22 shots. Providence was 1/6 on the power play and 5-6 on the penalty kill. The P-Bruins are back in action at the Dunk tomorrow night when they take on the Binghamton Devils at 7:05pm for the second half of their annual "Star Wars Weekend."
- - - - -
The Providence Bruins are the American Hockey League affiliate of the NHL's Boston Bruins, playing their home games at the Dunkin' Donuts Center in Providence, RI. Spanning more than 25 years, the Boston/Providence affiliation is one of the longest and most successful player development partnerships in professional hockey history.
For all the latest Providence Bruins news and updates visit ProvidenceBruins.com or follow the team on Facebook at facebook.com/providencebruins or Twitter at twitter.com/AHLBruins.
- - - - -
#3/22/2019#