Providence Bruins
GIGNAC'S HAT-TRICK POWERS DEVILS OVER P-BRUINS

Dec 21, 2018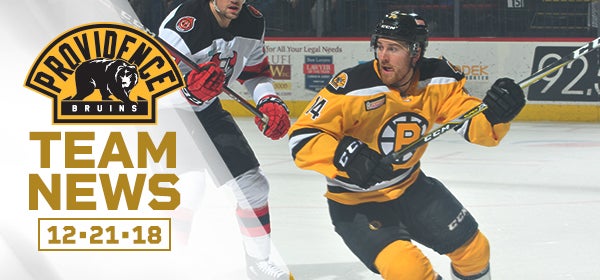 GIGNAC'S HAT-TRICK POWERS DEVILS OVER P-BRUINS
Dec 21, 2018
GIGNAC'S HAT-TRICK POWERS DEVILS OVER P-BRUINS
Binghamton, NY – The Providence Bruins fell to the Binghamton Devils Friday night 6-3 in their only visit of the year to the Floyd L. Maines Veterans Memorial Arena. The P-Bruins got goals from Connor Clifton, Gemel Smith and Anton Blidh while Zane McIntyre made his 17th start of the season in net.
Providence needed just 16 seconds to net the game's first goal, tying a season-best mark for their quickest opening tally. Anders Bjork rushed up the right boards to the dot and centered the puck to Ryan Fitzgerald in the left slot. His shot hit off the post, but the rebound came right to Clifton between the hashes. He buried the chance for his second goal of the year and the P-Bruins took an early 1-0 lead. The score remained the same for most of the period, however with 1:34 left in the frame Providence capitalized on a power play to make it 2-0. Taking a feed from Peter Cehlarik, Mark McNeill fired a shot on goaltender Cam Johnson that was knocked down in front. Smith jumped on the rebound near the crease and backhanded a shot in for his first goal as a Bruin. Binghamton answered with 38 seconds left in the period on a power play goal from Brandon Gignac, but Providence still brought a 2-1 lead into the first intermission.
Former Providence College Friars star Kevin Rooney tied things up 8:33 into the second period as the P-Bruins gave up two power play goals for just the third time all year. While on the man-advantage, Michael McLeod fired a slap-pass towards McIntyre and into traffic. Rooney got a piece of the puck in the high slot and tipped home his first goal of the season to make it 2-2. Sloppy play in the Devils end late in the second led to an unassisted goal for Blidh. A series of turnovers created the chance for Providence, as Blidh got the puck and skated it to the high slot. He sniped a wrister over the glove of Johnson for his sixth goal of the season and the P-Bruins entered the locker room up 3-2.
The third period was a struggle for Providence as they gave up four unanswered goals to Binghamton. The first came 7:41 into the period, as Rooney sent a centering pass to Ryan Schmelzer inside the left circle and he scored a shorthanded goal to tie the score 3-3. The Devils offense took off from there, as Gignac and Josh Jacobs scored goals just 26 seconds apart to make it a 5-3 Binghamton lead. Gignac sealed the deal with 37 seconds left to play, netting an empty netter for the hat-trick as the Devils won 6-3.
McIntyre stopped 17 of 22 shots while Johnson stopped 29 of 32 shots. Providence was 1-7 on the power play and 3-5 on the penalty kill. The P-Bruins wrap up their their pre-Christmas schedule tomorrow night in Springfield when they take on the Thunderbirds at 7:05pm.
- - - - -
The Providence Bruins are the American Hockey League affiliate of the NHL's Boston Bruins, playing their home games at the Dunkin' Donuts Center in Providence, RI. Spanning more than 25 years, the Boston/Providence affiliation is one of the longest and most successful player development partnerships in professional hockey history.
For all the latest Providence Bruins news and updates visit ProvidenceBruins.com or follow the team on Facebook at facebook.com/providencebruins or Twitter at twitter.com/AHLBruins.
- - - - -
#12/21/2018#