Providence Bruins
CAREY LEADS P-BRUINS OVER DEVILS 3-1

Mar 23, 2019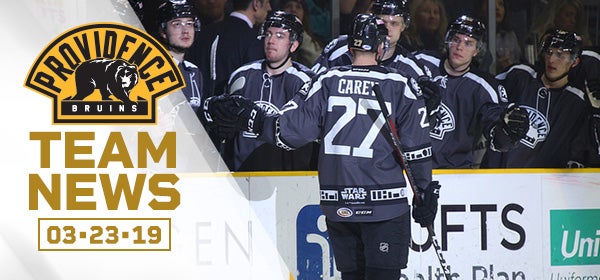 CAREY LEADS P-BRUINS OVER DEVILS 3-1
Mar 23, 2019
CAREY LEADS P-BRUINS OVER DEVILS 3-1
Providence, RI – The Providence Bruins defeated the Binghamton Devils 3-1 Saturday night in the last game of their two-game home weekend. The P-Bruins got two goals from Paul Carey along with a goal from Jordan Szwarz while Dan Vladar made his 28th the start of the season in net.
Providence and Binghamton played back and forth throughout the beginning of the first period, but the Devils were first to score. Nick Lappin tallied his 17th goal of the season at 14:00, with helpers Tariq Hammond and Brett Seney. The P-Bruins tried to regain their momentum as they finished out the first with a pair of power plays, but Binghamton killed both of them off. The Devils led 11-9 in shots and brought a 1-0 lead into the locker room.
The P-Bruins took the second period by storm when Jordan Szwarz lit the lamp with his 21st goal of the season at 5:53. Kyle Cumiskey and Paul Carey assisted on the play, tying the game 1-1. The Devils struggled to keep up with Providence when Carey netted their second goal of the game at 15:25. Gemel Smith and Trent Frederic earned helpers on the play, and the P-Bruins took a 2-1 lead into the second intermission.
Paul Carey started off the third period by netting his 21st goal of the season and his second of the game at 4:22. Gemel Smith and Jordan Szwarz earned assists on the power play goal that gave the P-Bruins a 3-1 lead. The Binghamton Devils were aggressive and pulled their goalie with just under three minutes left, but were unable to maneuver around the Bruins defense. Providence hung on and defeated the Devils 3-1.
Vladar stopped 22 shots while Cormier stopped 31 shots. Providence was 1/6 on the power play and 4-4 on the penalty kill. The P-Bruins hit the road for their first of their three away games Wednesday March 27th when they take on the Wilkes Barre/Scranton Penguins at 7:05pm.
- - - - -
The Providence Bruins are the American Hockey League affiliate of the NHL's Boston Bruins, playing their home games at the Dunkin' Donuts Center in Providence, RI. Spanning more than 25 years, the Boston/Providence affiliation is one of the longest and most successful player development partnerships in professional hockey history.
For all the latest Providence Bruins news and updates visit ProvidenceBruins.com or follow the team on Facebook at facebook.com/providencebruins or Twitter at twitter.com/AHLBruins.
- - - - -
#3/23/2019#