Providence Bruins
BOSTON ANNOUNCES NEW ECHL AFFILIATION WITH GWINNETT GLADIATORS

Aug 6, 2015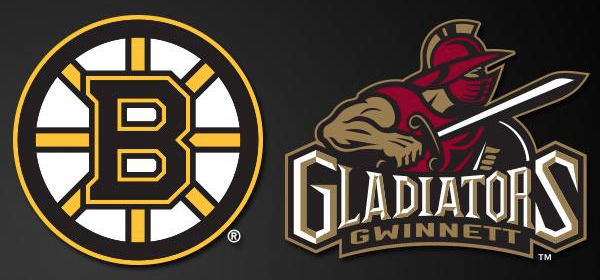 BOSTON ANNOUNCES NEW ECHL AFFILIATION WITH GWINNETT GLADIATORS
Aug 6, 2015
BOSTON ANNOUNCES NEW ECHL AFFILIATION WITH GWINNETT GLADIATORS
BOSTON, MA - Boston Bruins General Manager Don Sweeney announced today, August 6, that the club has entered into an affiliation relationship with the Gwinnett Gladiators of the ECHL. Under the affiliation arrangements, the Bruins will be able to designate players within their development system for assignment with the Gladiators during the 2015-16 season.
"The Boston Bruins and Providence Bruins are very excited to be forging a new development affiliation with the Gladiators," said Boston Bruins General Manager Don Sweeney. "Working with a proud franchise and being a part of the passionate fans in the Duluth community will provide a tremendous opportunity for our young players to continue to grow and help them to reach their full potential as professional hockey players."
The Gladiators franchise first began as the Mobile Mystics and were based out of Mobile, Alabama from 1995 to 2002. In 2003 the franchise re-located approximately 460 miles northeast to Gwinnett County, Georgia and re-branded as the Gwinnett Gladiators, where they served as the ECHL affiliate for the Atlanta Thrashers and their American Hockey League Affiliate Chicago Wolves from 2003-2011. The organization also served as ECHL affiliates for the Chicago Blackhawks (2008-09), the Columbus Blue Jackets (2009-10), the Phoenix/Arizona Coyotes & Portland Pirates (2011-15) and the Buffalo Sabres & Rochester Americans (2011-12).
The South Carolina Stingrays and Reading Royals had previously served as ECHL affiliates of the Bruins in the past.