Providence Bruins
BLACK TEAM OVER WHITE 6-1 IN THE BOSTON BRUINS BLACK & GOLD SCRIMMAGE

Sep 22, 2014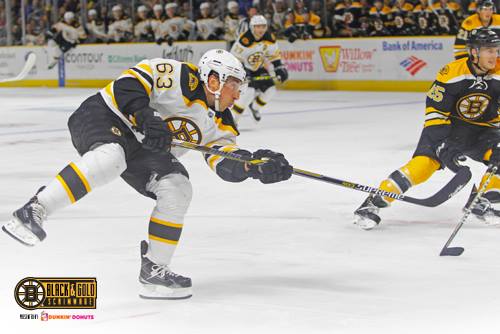 BLACK TEAM OVER WHITE 6-1 IN THE BOSTON BRUINS BLACK & GOLD SCRIMMAGE
Sep 22, 2014
BLACK TEAM OVER WHITE 6-1 IN THE BOSTON BRUINS BLACK & GOLD SCRIMMAGE
PROVIDENCE, R. I. – The Black Team came away with the win tonight by a final of 6-1 over the White Team at the at the Boston Bruins Black and Gold Scrimmage, presented by Dunkin' Donuts, in Providence.
The Black Team got off to a quick lead when defenseman Chris Casto netted the first goal against Tuuka Rask of the White Team at 2:43. Forward David Krejci had the assist. With 4:35 left to play in the period, Zach Trotman notched another goal for the Black Team with an assist from Tyler Randell. The period saw both teams getting shots off, Black with 12 shots and White with 11; but, the White Team couldn't seem to find the back of the net.
In the second period, the Black Team kept the momentum alive when Tyler Randell scored another goal at 6:02. Joe Morrow had the assist, and the Black team went up 3-0. With 8:34 to go in the period, both teams made a goaltending switch as Jeremy Smith relieved Tuukka Rask and Malcolm Subban came into the game for Niklas Svedberg; but, the change in netminder didn't seem to help the White Team. Jared Knight scored a foruth goal for the Black Team just thirty seconds after Smith entered the game. Matt Lindblad and Zach Trotman were credited with the assists and the Black Team continued to dominate with a score of 4-0.
The Black Team didn't let up in the third period. Tyler Randell netted his second goal of the night, this time unassisted. Seconds later, Alexander Khoklachev found the back of the net with help from Matt Lindblad, who would get his second assist of the night.
The White Team didn't give up and Alexander Fallstrom finally put them on the board with an assist from Bobby Robins. Fallstrom slipped the puck past Malcolm Subban with just 2:05 left to play wrapping up the game with a final score of 6-1.
- - - - -
The Providence Bruins are an American Hockey League franchise and the top affiliate of the NHL's Boston Bruins. Since moving to Providence in 1992 the P-Bruins have been among the league leaders in regular season attendance. On the ice the team has enjoyed similar success, having won five division titles, three regular season titles and the Calder Cup in 1999.
For all the latest Providence Bruins news and updates visit ProvidenceBruins.com or follow the team on Facebook at facebook.com/providencebruins or Twitter at twitter.com/AHLBruins.
- - - - -
#09/21/2014#